The Yukos shareholders' Indian firm of choice
| | |
| --- | --- |
| People in Who's Who Legal | 1 |
AZB was born in 2004 from a merger between CZB & Partners in Mumbai and Ajay Bahl & Company in Delhi. Today the firm has five offices in India. It formerly enjoyed a "best friends" agreement with Clifford Chance.
The firm has moved away from Indian law firms' traditional family-style structure and has been praised for its clear partnership track.
AZB's reputation owes much to the personality and profile of founding partner Zia Mody in Mumbai. She spent three years as vice president of the LCIA and has acted in numerous cases under that institution's rules, as well as those of the ICC, SCC, LMAA, SIAC and UNCITRAL.
Another strong name is Vijayendra Pratap Singh, partner and head of litigation in Delhi, who has spearheaded arbitrations related to option contracts, shareholder disputes and intellectual property issues.
Who uses it?
Recent clients include Tata Group; the owners of the Indian Premier League franchise cricket team Kochi Tuskers; Bank of New York Mellon; India's largest telecoms company, Bharti Airtel; Axis Bank; HSBC; and private healthcare provider Parkway Pantai Group.
Enercon India, HSBC and General Atlantic Singapore have all retained AZB recently. Past clients include Vedanta Resources, KPMG, Philip Morris, Dhariwal Industries, Bank of New York Mellon, Lehman Brothers and US cable television network ESPN. It has also acted for Indian property developer Kabul Chawla and his company, BPTP.
Track record
In one of its highest-profile cases, the firm defended Tata Sons in an LCIA claim brought by Japan's largest mobile operator, NTT Docomo, over a short-lived internet services venture. The arbitration ended in 2016 with a US$1.17 billion award against Tata. The award was paid in the following year, after Delhi litigation that had seen the intervention of the Reserve Bank of India in a bid to thwart payment.
In 2015, AZB defended Swiss luxury goods group Richemont in litigation filed by an Indian distribution partner, persuading the Indian Supreme Court to refer the claims to arbitration. It also convinced the court to quash parallel criminal proceedings launched against the client.
Recent events
It's a measure of AZB's standing in India that the former majority shareholders of Yukos Oil Company used the firm for Delhi High Court proceedings to enforce their US$50 billion Energy Charter Treaty award against Russia. However, that action has been discontinued pending the shareholders' effort to have the award reinstated in the courts of The Hague.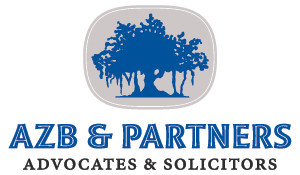 AZB has represented leading corporate houses and multinationals in multi-jurisdictional arbitration matters governed by various rules including those of the ICC, UNCITRAL, Swiss Chambers of Commerce, London Maritime Arbitrators Association, Singapore International Arbitration Centre and London Court of International Arbitration. The Firm has also been involved in arbitration proceedings under foreign laws such as New York law and English law where Indian law issues underscored the arbitration proceedings, in addition to numerous arbitrations sited seated within and outside India, governed by Indian law.
The Firm has handled complex commercial litigation and arbitration including advising in filing and defending interim applications in courts and before tribunals, conducting cross examination and trials of intricate questions of law and fact which are landmark decisions in the development of the law. In addition, the experienced litigation and arbitration team of the Firm also advises clients who get dragged in white collar criminal proceedings, often an offshoot of the civil proceedings. The experience in arbitration and litigation is across almost every industry including construction, manufacturing, mining and natural resources, insurance disputes, EPC contracts, real estate, information technology, aviation, banking and finance, telecommunication, infrastructure, etc.
Legal 500 2016 says about AZB "Without doubt, a powerhouse in the dispute resolution arena, AZB & Partners is adept in commercial litigation and arbitration". Ms. Zia Mody has been recognized as one of the "World's Leading practitioner" for Commercial Arbitration by Who's Who Legal 2016. She was Vice President on the London Court of International Arbitration (2010 - 2013). Mr. Ajay Bahl has been recommended for Litigation by the RSG India Report, 2017. Mr. Rajendra Barot is highly recommended for his Litigation & Arbitration practice. Mr. Barot has been recognised as a market leading practitioner in the dispute resolution space in 2017 and 2018 by AsiaLaw Leading Lawyers. Mr. Vijayendra Pratap Singh was awarded 'Disputes Star of the Year' by  AsiaLaw Asia-Pacific Disputes Resolution Awards 2016 and by Benchmark Litigation Asia-Pacific in 2013. The firm expanded its litigation and dispute resolution practice, by bringing on board Mr. Anoj Menon and promoting Ms. Sonali Mathur in 2017. Mr. Menon has longstanding experience of commercial and corporate disputes. Ms. Mathur has advised and represented clients in several landmark matters. 
The Firm has advised a world leader luxury brand ("Client") in its disputes with its distributor in India. In spite of arbitration clause providing for Swiss law governed ICC arbitration seated in Switzerland, the distributor filed a suit in Indian courts and also filed a criminal complaint making allegations of criminal breach of trust and criminal conspiracy. AZB advised the Client and argued the application before the trial court seeking dismissal of the suit in view of the arbitration clause. As a result of persistent efforts, the suit was dismissed within less than 5 months. The order of dismissal was upheld by the Supreme Court of India and the Supreme Court also ordered closure of the criminal case." AZB is also currently advising a Mauritian Private Equity Fund in pursuing a USD 70.5 million claim in an ICC Arbitration. The Firm is acting for one of the world's largest developers and manufacturers of railcar (bogie) systems and components.