The data for this survey was gathered between 2013 and 2015, when counsel and arbitrators completed detailed questionnaires on their hearing centre preferences. This survey was itself informed by an early iteration identifying what users valued in hearing centres, and the order in which they prioritised them. The following article blends the new and older research.
Are arbitration-specific hearing spaces really necessary? You'd think so – just judging by how many new ones have been announced in recent years.
But not everybody likes them.
"I have a strong preference for holding the hearing at a hotel," one Swiss counsel told GAR: "This enables us to set up 'war rooms' on-site that can be accessed outside of ordinary working hours. This greatly facilitates hearing preparation before and after the actual hearing time. In contrast, at [a well-known arbitration hearing centre] for example, it is very difficult or impossible to access the breakout rooms before or after standard working hours. For this reason alone, I am not a big supporter of stand-alone dedicated arbitration hearing centres."
Not everybody, of course, wants to visit their files in their pyjamas (and not every hearing centre is off-limits to those who do – many enable it). But it shows that people have preferences.
At various points in recent years, most recently in 2015, GAR has surveyed readers on their preferences. Those surveys inform this report on what makes a "good" hearing centre.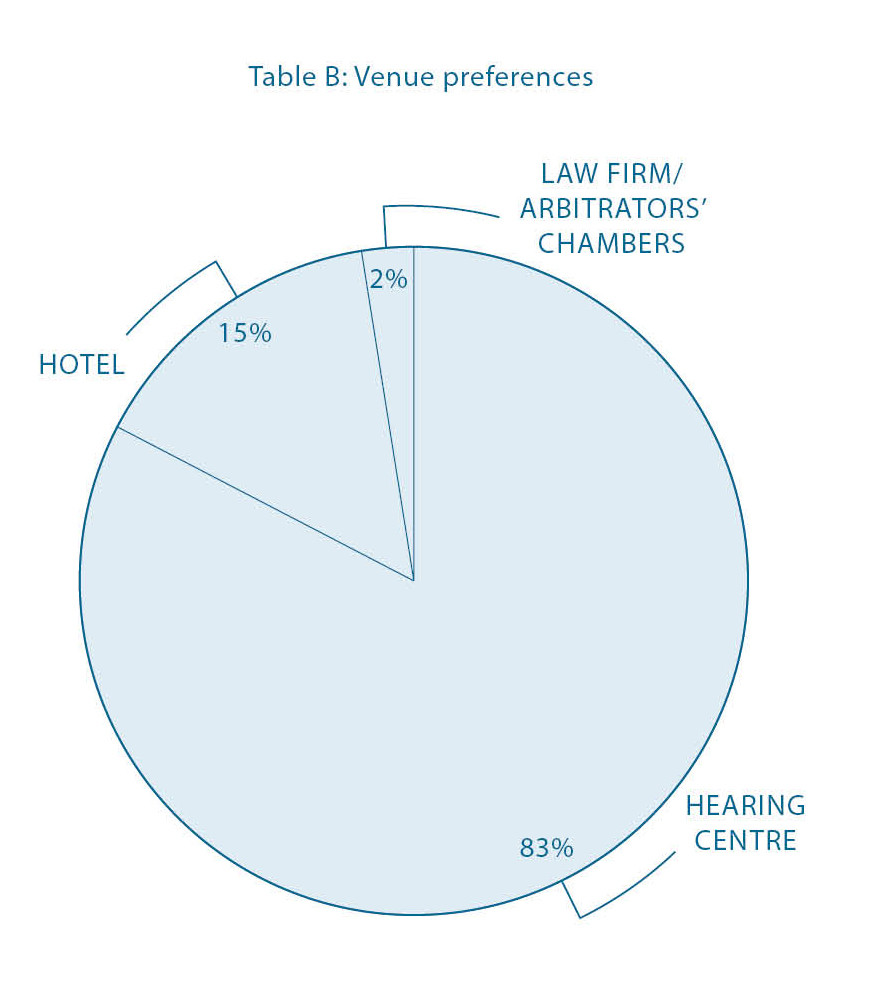 Overwhelmingly, users prefer hearing centres to hotels (Table B): some respondents even felt the need to add "by far" or "for sure" to their response. Why? Responsiveness at a time when tension is high is a common theme.
"A hearing centre is better equipped to assist lawyers in a demanding environment," said one source. "A hearing centre is more likely to be responsive to urgent requests." Another source said no one else understands the needs of an arbitration like an arbitration hearing centre.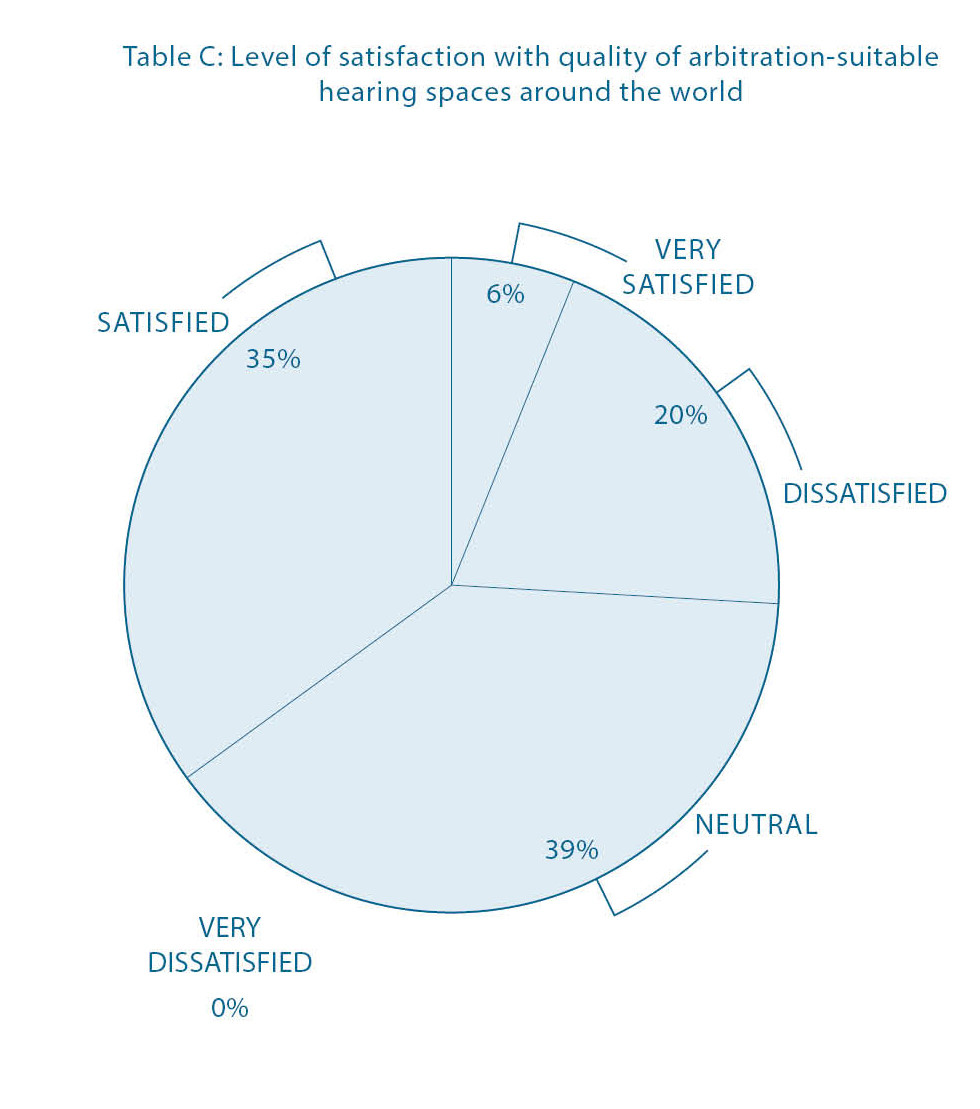 The surveys asked whether users are happy with the amount of arbitration hearing space around the world (Table C). Although it shows reasonable satisfaction with the current stock of arbitration hearing space, a follow up question drew out widespread concerns. Many of those who opted for "neutral" initially expressed "dissatisfied" in this follow-up question. Cities or regions where people said they had difficulty finding "good space for a hearing" (to use the question's wording) included Geneva ("Go to Lausanne," was one person's tip), Zurich, New York and Stockholm, Moscow, Tokyo, Beijing, India and "the whole of Africa and many parts of Asia". (Editor's note: the survey predated the opening of bespoke arbitration hearing centres in both Stockholm and New York, and the launch of the Swiss Arbitration Hub, which identifies and books arbitration-friendly hotels.)
So, why the dissatisfaction? After all, in all of those places there are plenty of high-end hotels. Well, for one thing, availability.
"Have you tried booking [meeting] space for a long period in Hong Kong?" said one contributor to our survey. "It's nearly impossible to book the same hotel for the entire duration you're likely to require." This, he added, is true even of the hotel you will actually be sleeping in.
"In some cities," agreed another respondent, "it's always a scramble to find your space." And it's worse, he added, when other big events are on, "like fashion week!"
The client can make it hard too: they sometimes balk at paying top dollar at an expensive hotel. One contributor remembered a four-star hotel that was "so bad we immediately tried to upgrade our rooms to the suites". Unfortunately, their opponents had arrived a day earlier and had the same idea. "So none were left." The case settled on the first day "and we were all very happy to leave".
The second problem with hotels is their lack of familiarity with the arbitral process. Laying out and minding an arbitration is an art unto itself and, save for a few hotels in Switzerland, not one in which hotel staff are usually trained. That creates annoyances such as the continual re-explaining of room layouts, mix-ups over security and confidentiality, and confusion about who's allowed access to which rooms.
"You can make hotels work," said one US counsel and arbitrator, "but it definitely requires a site visit beforehand to avoid surprises."
Even then there are always things you can't plan for. The life of a grand hotel is rich and varied, and will often spill over into the arbitration. One arbitrator reported having to move his hearing after an Arab princess arrived unannounced and demanded the use of the hotel's entire conference area. Where did the arbitration end up? Downstairs, in the disco.
It's more likely, however, that you'll be interrupted by the noise of a wedding DJ or a round of "Happy Birthday". And sometimes it's none of the above. "My bête noire," says a Dutch lawyer, "is soup, which our hotels insist on serving if it's part of the lunch deal – irrespective of time. They just leave it there, and then you've got a bubbling smelly pot in the middle of a room. On one occasion, they left it in the breakout room overnight. Not only was the smell truly impressive, the thing got so overheated that I burnt my hand lifting the lid."
Law firm offices or the arbitrators' offices may be an option; indeed Table B finds a small percentage of users who favour them above any other option. But the meeting rooms in firm offices can be small, and arbitrators' chambers aren't neutral territory. (The survey produced anecdotal evidence that a few law firms are indeed unwilling to welcome a hearing – with all the hubbub it can entail – into their otherwise silent halls.)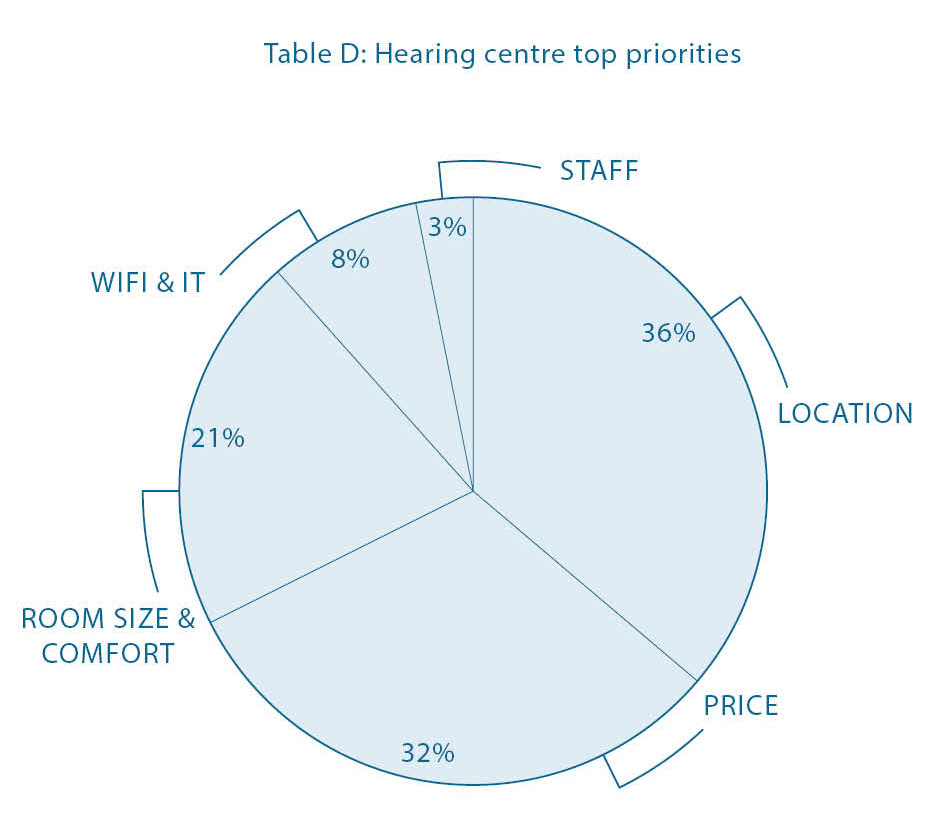 Approve or disapprove, more bespoke hearing centres are appearing. As mentioned, Stockholm and New York have recently opened facilities. Toronto has become home to Arbitration Place, a premises so swish it's forever raised the bar. Other cities say they have centres planned – notably Tokyo.
So, what do users value in a hearing centre?
Our survey asked: if you had a choice between two centres, which factors would sway your decision in favour of one? Table D shows the five categories highlighted as the most important.
They show that it's the basics that matter: a good location, value for money, adequate space and comfort, reliable IT and helpful staff.
Having established what matters, which centres best fulfil each category?
LOCATION
Location narrowly emerged as the most important criteria. Table E shows which centres people thought did well in this area.
The HKIAC's "excellent location at the heart of Central" made it the best performer in the survey. One participant said: "Without a doubt, the HKIAC has the best location – it's close to a large number of business hotels and is convenient for law firms. It also has excellent transport links and is very near the 
Airport Express."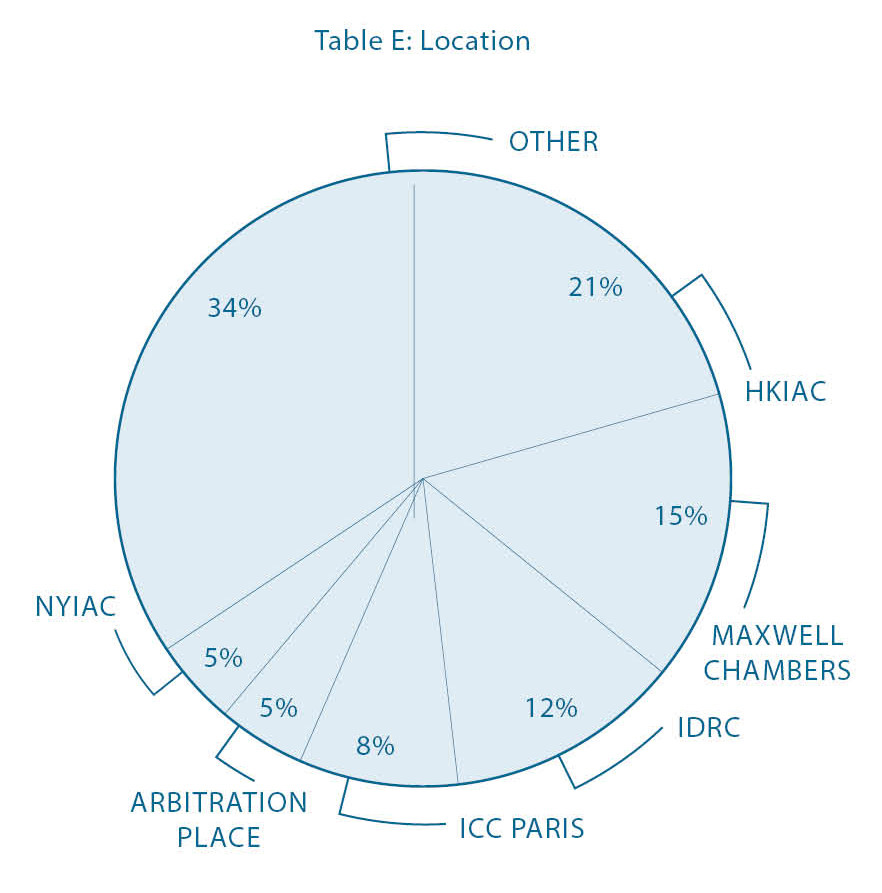 The IDRC in London was also praised for where it is in relation to the business zones of London. Maxwell Chambers' on the other hand fared slightly worse in this heading that some: respondents noted that it was less close to good hotels and that its site isn't as central within the city as some would ideally like. On the other hand, its location within the wider region was noted as excellent.
PRICE
Price mattered to our respondents almost as much as location. Price is something that can be objectively measured. Thus we compiled Table F, which shows the average cost for hearing space per day in US dollars using the centre's own rate card.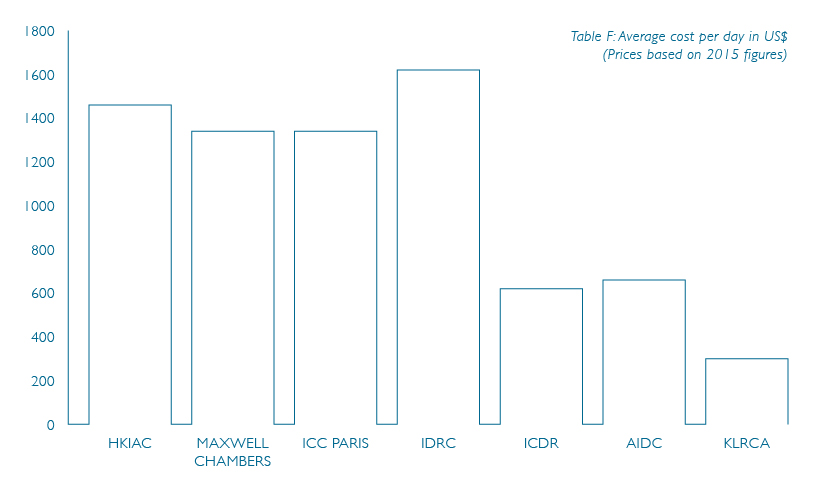 PERCEIVED VALUE FOR MONEY
Editor's note: Arbitration Place and ICSID are omitted from the second chart because flat-rate figures were unavailable at the time of research).
Of course, hearing centres do not exist in a vacuum. Their price is set by that of local alternatives – usually hotels. It's possible to be expensive but still good value if you're in an expensive city.
Table G shows exactly that in action. It shows which centres users perceive as good value. The HKIAC and Maxwell Chambers came top, despite being among the most expensive of the centres according to the earlier chart. "The prices at the Hong Kong International Arbitration Centre are very competitive and very reasonable, taking into account of the location and facilities provided," said one respondent, while another said they thought it was good value "compared to other hearing venues in the region."
Likewise, the ICC hearing rooms in Paris and the IDRC in London, though expensive in absolute terms, are deemed value for money.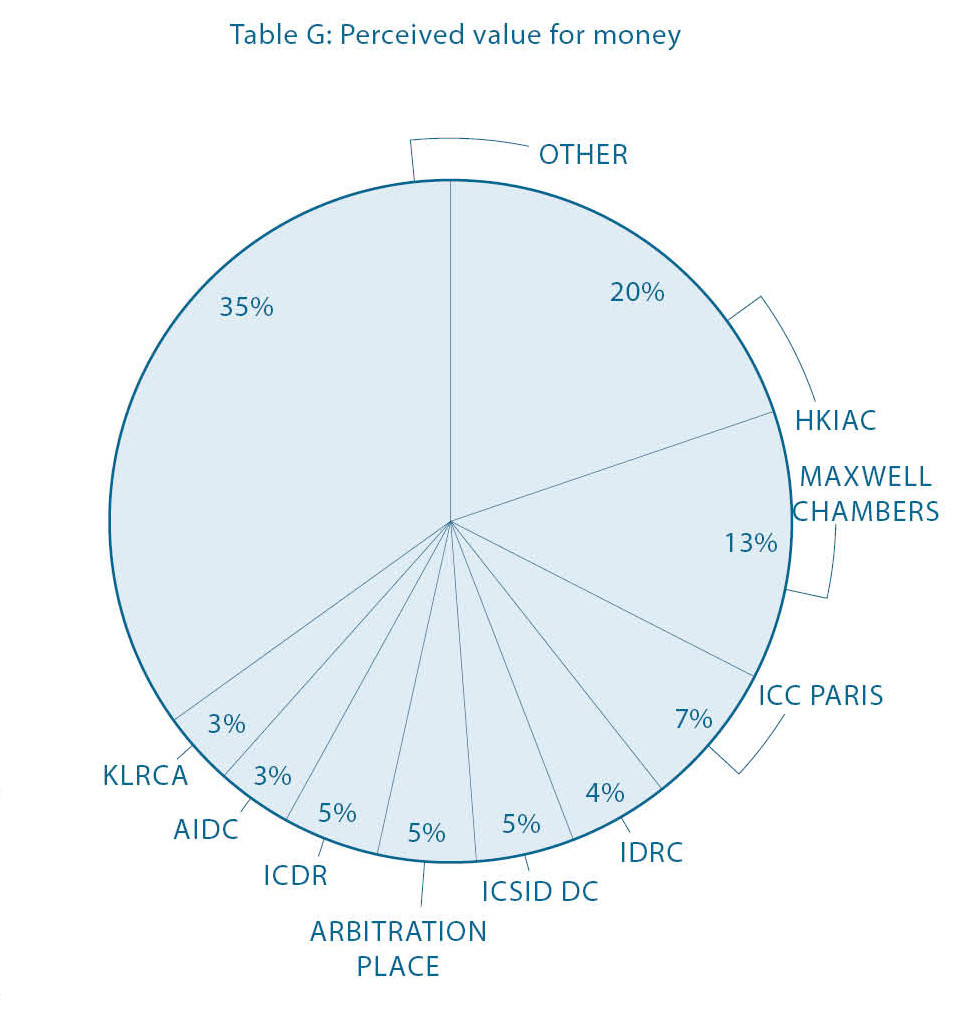 ROOM SIZE AND COMFORT
After location and price came size. Does the centre offer big rooms, or can it at least create them? Does it have lots of capacity – can it host many cases at once? Those questions matter to people.
Table H shows how different centres perform for simple square footage (using figures in the centres' own literature). (Editor's note: this data was taken in 2015, and some centres may have expanded or announced plans to expand in the interim.)
The IDRC in London emerges as the leader on this score, followed by Toronto's Arbitration Place.
In the comments section of our survey, however, the ICC and Maxwell Chambers did best, under the heading of size and comfort. Maxwell Chambers enjoyed particularly vocal support: it "stands out for the variety of room sizes, layouts to choose from, good natural lighting, easy availability and user-friendliness," said one user, while another praised its "24-hour availability and holistic support" as well as, she added "the best post-it pads ever".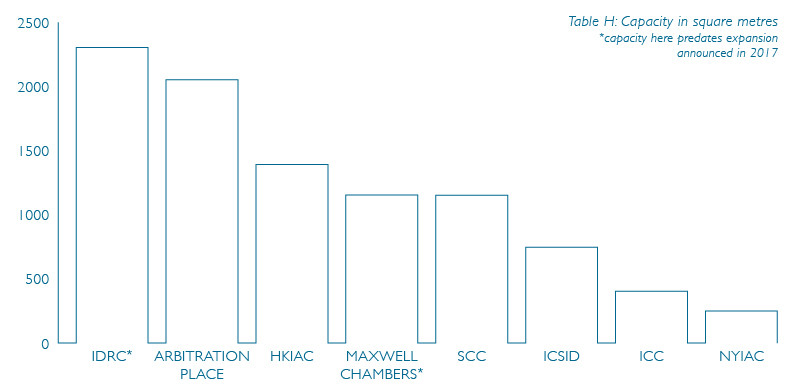 IT SERVICES
Technology is now a part of life. Arbitration hearings are no exception. Technology that works as it should matters more and more to users.
Table I shows which centres our respondents thought had good IT services.
Comments tended to focus on whether the technology worked as it should or not. For example, Maxwell Chambers was commended for the quality of its video conferencing: "We used the [videoconferencing facilities] of Maxwell Chambers@Centennial to cross-examine an expert witness in London, and they were very good. The video and audio were very clear and there was very little lag."
The HKIAC was praised for its ability to offer IT services such as videoconferencing "at relatively short notice," along with sound basics "such as free, reliable WiFi."
That said, it's fair to say that commentators frequently noted that there was "no significant difference" between centres on the IT side.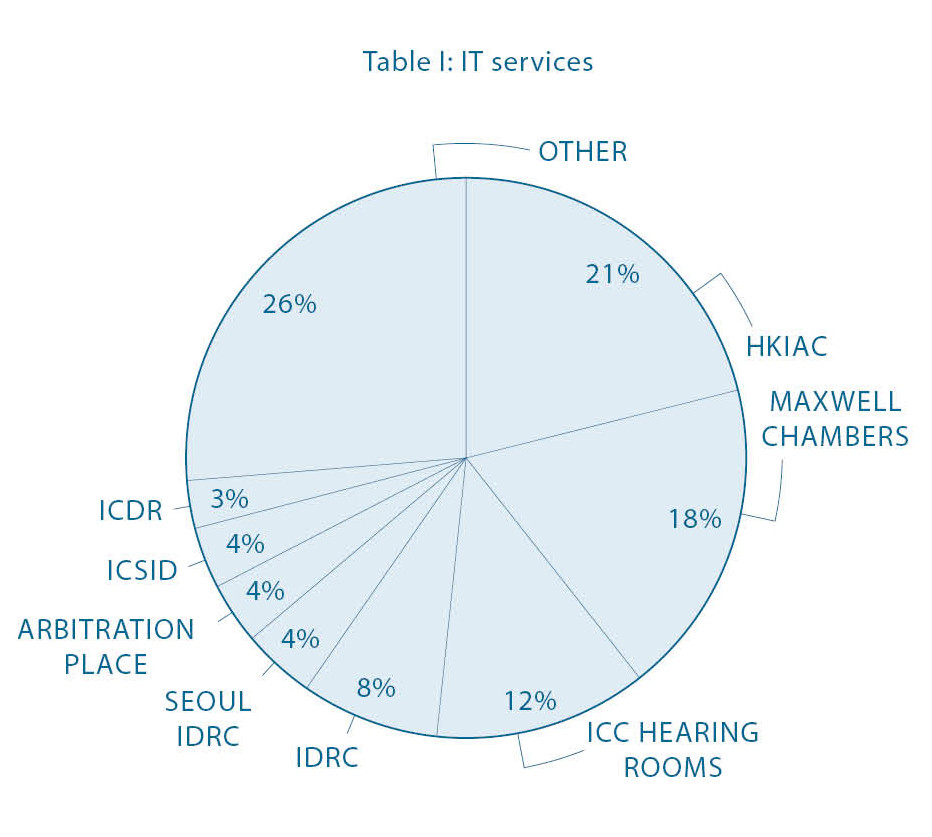 HELPFULNESS OF STAFF
The survey also asked users about "helpfulness" of staff. As with technology, some thought there's little difference on this score: "I am not aware of any centre where there is not a helpful staff," replied one source, and another added that the staff in all the centres he'd used were "attentive and helpful".
Nevertheless, the HKIAC drew particular praise, for having staff who are "very warm-hearted" and "really amazingly helpful", as did Maxwell Chambers, where they are "quick", "responsive" and "very welcoming".
The survey also asked which centres respondents had heard good things about but never used. Newer offerings dominated this list "I've heard great things about the new New York Arbitration Centre," said another, while the new KLRCA centre "has potential to be the best outside the Peace Palace".
If nothing else, this survey highlights how far things have come. As one contributor explained, "For the longest time it was the exception rather than the norm that you could find good-quality arbitration centres. As a younger lawyer I recall being shocked at how poor hearing facilities were in some of the well-established seats: Paris, Zurich, Geneva for example."
It seems the future is here – and it is a good deal more comfortable.