How does one "rank" international arbitration practices?
At first blush, it looks like something that should be easy. After all, they compete head-to-head... so there's a winner, right? Or perhaps one could look at which firms are working on the bigger, "sexier" cases?
There are surveys that do both of those. But with all due respect, neither approach, on its own, works too well.
A law firm, for example, can often be obliged to take on a stinker of a case as a favour to a client. Or there's the opposite scenario: one might win (or seem to win) the battle but lose the war, as one of our readers in fact experienced (he didn't know he was losing the war because he didn't have control of the totality of the case). In that matter, the lawyer successfully defended an US$80 million claim. Meanwhile (and out of his hands), the client was losing a parallel case about the same transaction worth US$200 million.
As for "size", that isn't always a great indicator of importance either. A story from the back catalogue of Jan Paulsson may help to explain.
A while ago, Paulsson's firm at the time, Coudert Brothers, received a smallish-looking case from an Asian client, about vested rights. About US$50 million seemed to be at stake. Except – and here's the rub – when the team scratched the surface, they found the terms in this dispute with a Middle Eastern agent were repeated in lots of contracts.
Worse, most of the client's corporate loans contained acceleration clauses. A loss of more than US$5 million and those would become eligible for early repayment.
The small case was far from minor, it turned out.
After a "pretty bloody fight" (that included the discovery of forgery), the client lost – but only US$2 million. It was overjoyed.
"A silly summary of the case," says Jan Paulsson, "would have been that we lost a little case."
In reality, the client exhaled with huge relief. It treated Paulsson and the rest of the team – plus spouses – to an all-expenses paid trip to the Seoul Olympics.
It's more normal for things to be the other way around. The so-called bet-the-company case turns out to be worth tens of millions when all is said and done. Indeed, for a period it was noticeable how few of the billion-dollar investment arbitrations ended in awards worth anything like that amount. This phase may have ended now (see awards such as Yukos v Russia and Occidental v Ecuador), but before that a number of cases produced far less than the amounts claimed. So the point remains. It's unwise to draw too many conclusions about the "size" of a case until the result is in.
So how can one take the pulse of a practice?
Around a decade ago, GAR journalists and the magazine's editorial board pondered that question, leading to the thought: what about a survey built chiefly on the number of hearings conducted by the firm in a two-year period?
For those reading about international arbitration for the first time, the hearing (particularly the merits hearing) is the closest thing that arbitration has to a day in court. It's the moment the two sides convene in a hotel room, law firm office or arbitration hearing centre for however many days of oral arguments have been agreed.
For the senior counsel (the advocates), it heralds a period of isolation beforehand prepping – and perhaps the odd cold towel pressed to the head. (For the younger lawyers, it means sorting out all of the logistics of the presentation, and possibly dealing with a more-jittery-than-usual boss.)
If it's a very important case, the team may have done some dress rehearsals in front of arbitrators hired specially for the purpose.
So why is the incidence of hearings a good indicator of the health of a practice?
As a metric, the hearing has several strengths. First, it's innate. Just as fissile material emits radiation, so the busy arbitration practice cannot help but produce hearings.
Second, it's the same for everyone. Although some firms have complained that their cases tend to settle before a hearing, there is no evidence to suggest anyone has a different settlement rate.
Third, it's checkable. International arbitration is often confidential, but firms can reveal descriptive, generic information about each hearing (such as language, dates, claim size, opposing counsel, chairman of the tribunal, and so on) without breaching that, and so allow its existence to be verified.
Fourth, real experience is gained in merits hearings. Any advocate will tell you there's no better gymnasium for the legal mind than going into a hearing, big or small.
Of course, there are exceptions that test the rule.
Practices that focus on very low-value commodities cases pose a problem – as there's a risk they can swamp the chart. We've met that by ignoring matters below a certain figure (despite what we said earlier about size not counting) as well as cases at certain industry-specific arbitral institutions.
Practices that have large but slow-moving cases are also difficult: for many DC-based firms, for example, the majority of their work is large, labour-intensive yet slow-moving investment disputes. Again, we've met that by asking them to send in their billable hours – as well as their hearings information – to see if we can give them extra credit.
As you can see, we've attempted to adapt the approach so it is fair to all. But the core of the survey remains the number of hearings.
Having collected the data, how do we turn it into the "ranking"?
One can compare the GAR 30 to a class of students. The students get different grades per test throughout their year. (Note the grade is always relative to the other students. An "A" doesn't mean "80% or above" – it means it is in the top 10% of performances (or something close)). The higher the grades, the better the student's overall placing.
So it is with our firms (except the tests are columns in an Excel spreadsheet): lots of A grades (or A+ or A-) mean a high final position in the GAR 30; Bs and Cs mean a mid-table score; and so on.
That raises the next question: what do the firms get tested on? The survey looks at:
merits hearings and jurisdictional hearings in a two-year period and the amount of money at stake;
the number of hours billed to arbitration in the past two years;
the number of lawyers at the firm who were peer-selected for inclusion in our sister publication Who's Who Legal: Arbitration; and
the number of pending cases in which a firm's members have been appointed as arbitrators.
Further, we split "hearings" into four categories according to their value: bet-the-company cases (US$1 billion and upwards); large cases (US$250 million to US$999 million); medium-sized cases (US$10 million to US$249 million); and small cases (these are all but ignored, except as a tie-breaker).
"Winning", or losing, doesn't come into it. If it did, Shearman & Sterling would have been the runaway number one a few years ago, having won the US$50 billion Yukos awards – and the likes of Debevoise & Plimpton, Arnold & Porter Kaye Scholer and Squire Patton Boggs (all of which have won big in the recent past) would all have done better in previous editions.
Nor does profitability. The GAR 30 measures output, rather than profitability. It's thus possible to do well without necessarily being particularly successful as a business. Some astute readers may notice that certain firms that are high in this year's table – Herbert Smith Freehills and Allen & Overy, for example – are the very shops that have been losing talent to rivals in the market. Such is the nature of the GAR 30; it says nothing about the element some lawyers care about most. In the future we may introduce a column that reflects whether a practice is growing as a business; but there are challenges. So simply be aware that the ranking has nothing to do with long-term financial health. International arbitration is no different to any other activity. One can buy market share.
A perennial problem with comparing arbitration practices is that often it's apples and oranges. In the past, this survey tended to over-reward high-volume practices. In recent years, we've tried to construct it so that everyone has a good chance to shine – from firms who focus 100% on super-complex work to those that are more like arbitration supermarkets.
What's the secret to succeeding in the GAR 30?
There are two ways to do well.
One – the easier – is to perform better than average across the board. This is the "well-roundedness" route to success. If one looks at the top of the table, this is how White & Case, Freshfields, King & Spalding and others do well year in, year out, and why some other firms are also regularly in the GAR 30, without particularly standing out in any single column.
The second way is to do exceptionally well in one or two particular columns and averagely elsewhere. This is the "big-game hunting" route to success.
Something to be aware of in the GAR 30 is that it can be a bit changeable – particularly in the middle order. There are various reasons for this.
First, it's the nature of the endeavour. There is often very little difference, in grade terms, between a firm that finishes, say, 16th or 17th and one that's in 23rd position. But by referring to them as being in 16th and 23rd place, the difference is made to look starker than it perhaps is. But we've taken a conscious decision not to put firms in "bands". Another consequence is that, in zones of the table where everyone's grades are tightly bunched, jumps are magnified; small differences can lead to large changes in place, year on year.
This highlights another caveat about the table: it's relative. The fact that a firm has moved its ranking compared with a year ago in fact establishes nothing about whether the firm's own practice has changed (improved/not improved). All it shows is that the firm's performance relative to other firms has changed, in this closed system. In an extreme example of this, a firm may have exactly the same figures this year as a year ago and yet move several places, up or down. The firm itself hasn't changed. But others have posted better (or worse) figures.
With that background established, you are ready to find out about this year's ranking.
This is the eleventh edition of the GAR 30. The details we concentrated on per practice remains as it was last year.
The table on page 216 shows all the data relevant to the ranking apart from billable hours (mentioned in a separate table on page 219). The main GAR 30 table includes two columns that don't count towards the overall position ("Value of current portfolio as counsel" and "Number of cases settled in two years") because they are illuminating nevertheless. There were submissions from more than 230 firms this year.
GAR 30: a snapshot
In this year's GAR 30, seven firms go up, 12 firms go down and seven stay the same. Two firms enter the ranking for the first time ever; three firms reappear after a time away; and, unusually, two firms are tied for the final spot. Four firms from a year ago drop out.
White & Case takes first place for the fourth-year running, with Freshfields Bruckhaus Deringer coming second (the firms were tied for the number one spot in 2016). Herbert Smith Freehills remains in third place.
Who's up, who's down
The highest riser in the table this year is DLA Piper (up 10 places), followed by Cleary Gottlieb Steen & Hamilton (up nine places) and Quinn Emanuel Urquhart & Sullivan (up seven). Baker McKenzie, King & Spalding, Hogan Lovells and Jones Day have also made gains this year.
The firms that dropped furthest are Lalive and Hughes Hubbard & Reed (seven places each); Shearman & Sterling and Latham & Watkins (six places each); and Dentons and Clifford Chance (five places each). Wilmer Cutler Pickering Hale and Dorr also fell four spots, while Linklaters and Derains & Gharavi slipped down three and two places, respectively.
Besides Freshfields, White & Case and Herbert Smith Freehills, the other firms that haven't moved this year are Curtis Mallet-Prevost Colt & Mosle, Debevoise & Plimpton, Orrick Herrington & Sutcliffe and Sidley Austin.
The two firms making their debut in the table are K&L Gates in 27th place and Gibson Dunn & Crutcher, which is tied for the 30th place with Derains & Gharavi.
CMS and Squire Patton Boggs reappear in the table having last featured in the 2015 edition. King & Wood Mallesons also appears for the first time since 2016.
Four firms leave the table: Schellenberg Wittmer, Clyde & Co and Norton Rose Fulbright (they are in our list of runners-up, the GAR 31-40); and Foley Hoag (which narrowly missed the runners-up list).
What the GAR 30 tells us
It is always instructive to compare the numbers being reported in any GAR 30 with those of previous years. One observation, now we have a new set of figures, is that the larger international arbitration shops are continuing to increase the volume and value of their caseloads. This edition, the total value of the firms' pending counsel work has continued to rise (it now stands at over US$2.1 trillion), while the number of hearings we counted in the research window rose to 1,095, compared with 869 reported by the firms in the previous 30. The total number of pending cases as counsel also grew to 3,699 compared with 3,102 a year ago. Even accounting for the presence of an additional firm in the table – the result of the tie between Derains & Gharavi and Gibson Dunn – these figures are still noteworthy. The inflation mirrors the statistics of major arbitral institutions, with centres like ICSID, SIAC and the LCIA reporting record case numbers over the past two years (and, in the case of SIAC, the total value in dispute has even tripled). As a side note, we also asked the firms what proportion of their cases as counsel were being third-party funded. The answer on average was about 2.7%.
As we noted last year, some of the highest-value cases seem to be spawning longer hearings (by international arbitration standards) two or three weeks in duration, and there are signs of more bifurcated hearings on merits and quantum issues. That's particularly true for firms at the top of the table. For instance, a €6 billion ICC dispute over a nuclear power plant in Finland (in which four firms in the GAR 30 are acting) has spawned 58 days of merits hearings over the past two years.
The news may not delight those who care about arbitration's average time and cost. For present purposes, it's worth noting that longer hearings, or more numerous hearings, don't boost a firm's GAR 30 position; we contract them all into a maximum of two hearings per case (one jurisdictional, one merits).
Another obvious difference between this 30 and its predecessors is the high position of certain newcomers to the market, principally Three Crowns and Quinn Emanuel Urquhart & Sullivan. Neither is a "boutique" law firm in the classical sense (one office, one practice area), but both organisations were built to undertake one particular type of work only (international arbitration in the case of Three Crowns and commercial disputes, in the case of Quinn Emanuel).
Three Crowns this year finishes eighth, versus seventh where it was year ago. It posted the third-highest number of bet-the-company hearings, with a remarkable nine. The score is arguably more surprising when you consider its size (49 lawyers, nine partners) and how long it has been in existence.
Quinn Emanuel Urquhart & Sullivan is also higher than ever before at fourth place. Both Three Crowns and Quinn Emanuel built their teams by poaching partners from the shops that have traditionally lorded over the GAR 30: Freshfields and Shearman & Sterling in the case of Three Crowns, and Allen & Overy and Herbert Smith in the case of Quinn Emanuel. So it is little wonder, perhaps, that those partners continue to do well in this ranking at their new homes. It shows that international arbitration remains a field in which clients at times hire individuals more than organisations.
1 to 9
Turning to the ranking, White & Case's position in the top spot – above Freshfields – needs some backstory. Freshfields dominated the number one position in seven consecutive editions of the GAR 30 before it was supplanted for the first time by White & Case in 2015. The timing was unfortunate, coming soon after a couple of leading names had left the Freshfields practice to set up a rival shop, Three Crowns.
Then in 2016, White & Case and Freshfields tied in first place (the first time this had ever happened in the GAR 30's history). Our researchers simply found the two firms too evenly matched to pick a clear winner.
Last year, however, White & Case edged slightly in front – a position it continues to hold in 2018. It's true that Freshfields notched up a larger number of mid-sized merits hearings overall during the research period (36 compared with White & Case's 28). Freshfields also had a slightly larger number of practice members who are recognised in Who's Who Legal. And while it didn't factor into the ranking, Freshfields' counsel work is now valued at US$159 billion, while White & Case's pending cases are valued at US$144 billion.
Then again, White & Case had a higher number of hearings in "large" cases and bet-the-company disputes worth more than US$1 billion. It also reported a significantly higher number of hours billed to arbitration (in fact, the highest of any firm in the table) as well as number of cases that its practice members are hearing as arbitrators.
Both firms have been busy. Like last year, White & Case's biggest hearings during the research window have been commercial rather than ICSID matters. It's one of the firms in the Finnish nuclear power plant dispute already mentioned. It also acted for a Middle Eastern state in a large construction matter and for the consortium behind the expansion of the Panama Canal. A few high-stakes hearings for Italian and Canadian energy clients and a Turkish conglomerate have also carried the firm aloft.
Freshfields' commercial practice also generated some of its biggest hearings this time around. It acted for a UAE gas consortium in a case against the Kurdistan regional government of Iraq that ended in a multibillion-dollar settlement and it appeared for a Gulf state in a power and water dispute. There were also hearings in billion-dollar cases against Venezuela.
Herbert Smith Freehills remains in third place for the third year running. The firm had hearings in 10 cases worth more than US$1 billion each, though its number of medium-sized cases has dipped slightly. The value of HSF's portfolio of counsel work has also remained steady over the past year at US$48.6 billion.
Significant HSF hearings during the research window included one for Spain in a closely watched treaty claim brought by investors in the solar photovoltaic industry and a commercial claim filed on behalf of a Chinese state energy company against Spain's Repsol. It also acted for a UK mining company in a substantial UNCITRAL matter relating to back taxes owed to the Indian government.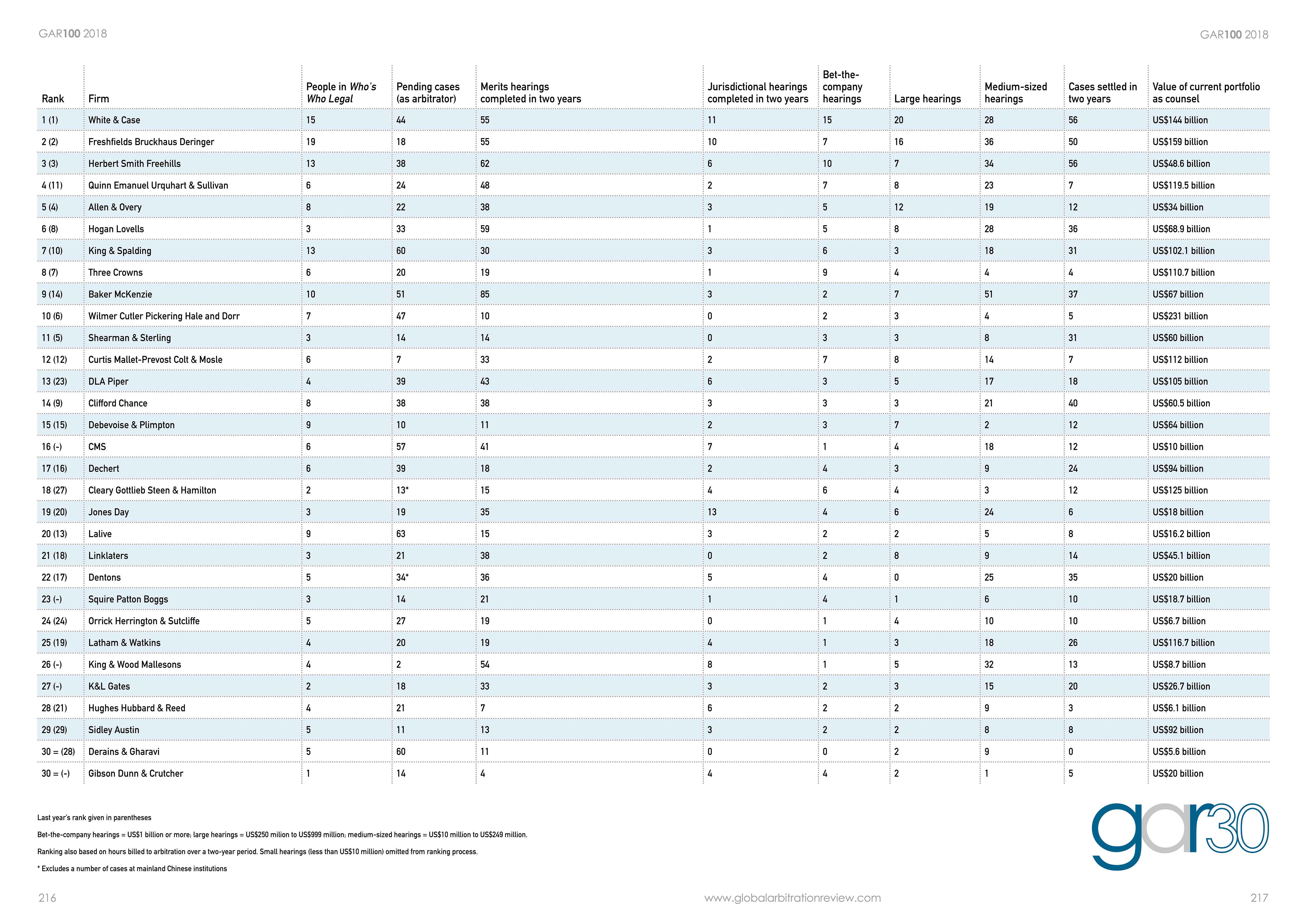 (Click for larger image)
Observant readers may be thinking: "But Herbert Smith Freehills has lost several senior arbitration partners during the research period" (examples include Laurence Shore, Isabelle Michou and Emanuelle Cabrol). As mentioned earlier, this paradox is a feature of the GAR 30: it is backwards-looking and unconcerned with the thing that many lawyers regard as the true mark of success – profitability.
This year, Quinn Emanuel Urquhart & Sullivan jumped from 11th to fourth place (the highest it's ever been) thanks to an increase across the board in its number of hearings. Those included twice as many in the "bet-the-company" category compared to last year, plus more hearings in "large cases" and an impressive number of arbitrator appointments. The number of its pending cases also rose from 92 to 119, increasing the value of its portfolio to nearly US$120 billion this time.
Major matters that went to a hearing in the past two years include: a US$2 billion fraud claim in the financial sector; an investment treaty claim against Russia over its actions in Crimea; and a price review claim on behalf of Italy's Edison against Eni relating to gas supplies from Libya (which resulted in a €1 billion win for the client).
Just below Quinn, Allen & Overy is in fifth place. It recorded its highest number of billable hours since we have been collecting that information. Significant hearings came from renewable energy cases against Spain (one of which produced a €128 million award for the firm's client) and an ICSID matter for its client Pakistan. Like HSF, however, Allen & Overy is a firm doing well in the 30 even as rivals lure some of its talent away. Michael Young QC joined Quinn Emanuel in 2017; that same year, Jeffrey Sullivan joined Gibson Dunn & Crutcher in September.
Hogan Lovells rose to sixth place (up from eighth, where it had been for the previous two years). While the firm's showing in Who's Who Legal fell from eight to three practitioners this year, its billable hours were among the highest in the ranking. It also increased its number of bet-the-company hearings, which included energy disputes between an Iranian state-owned oil company and a Norwegian energy company.
King & Spalding climbed three spots to seventh position. It was buoyed by a strong showing in Who's Who Legal (the firm has 13 members listed, including Doak Bishop and Ed Kehoe) and boasted the second-highest number of arbitrator appointments in the table (Stuart Isaacs QC, Adrian Cole and Jan Schaefer being among the most prolific). Over the years, the value of its portfolio has also been steadily increasing and exceeded US$100 billion this year. Major matters that reached a hearing in the research window include an ICSID matter against Egypt and an Australian mining dispute that includes Samsung.
When Three Crowns first appeared in the table in 2016 (in 15th place), we observed that it was an auspicious debut for a firm that had only been up and running for a relatively short time. Established in 2014 by Jan Paulsson and other prominent names from Freshfields, Shearman and Covington & Burling, Three Crowns styles itself as "a radical departure from Big Law".
Then it was boosted by the number of arbitrator appointments. Since then, the number of arbitrator appointments has fallen, but its score for bet-the-company hearings has soared to an extraordinary nine, the third highest in the table. Ominously for other firms, nearly all of Three Crowns' merits hearings during the research window were above the billion-dollar mark. Three Crowns' hearings included the Finnish nuclear power dispute mentioned before. Its pending counsel work is worth nearly US$111 billion, which is on a par with some leading full-service firms in the table. When it was launched, firm co-founder Georgios Petrochilos said the firm would focus on the whole spectrum of arbitration law, delivering "sharper focus" and a breadth of expertise like no other arbitration outfit. This year's figures could indicate those bold predictions are proving true.
Baker McKenzie took ninth place this year (its highest position since 2012). It reported 85 merits hearings, and while most of these were worth less than US$250 million, there were a couple of billion-dollar matters. The firm also had an impressive number of billable hours and has a solid showing of 10 names in Who's Who Legal across its many offices.
10 to 20
Two of firms that often challenge for a top spot in the GAR 30, Shearman & Sterling and WilmerHale, are lower this year.
WilmerHale – home to Gary Born, the self-styled "world's leading authority on international arbitration" (a title to which he has a reasonable claim) – occupies 10th place. The firm was buoyed by its high number of arbitrator appointments and billable hours. It had fewer hearings in bet-the-company cases, though this did include representing Kurdistan in the gas dispute already mentioned. Before anyone writes WilmerHale off, however, they should note that its portfolio of counsel work increased significantly to US$231 billion (a 34% increase on last year's figure).
Similarly, Shearman & Sterling in 11th place is lower than it's been in previous years (it has occupied second or third position for most of the GAR 30's history, only dipping to fourth or fifth in the past two years). Digging into the figures suggests it would be unwise to read too much into the lower position. Having won the largest arbitration award in history (the US$50 billion Yukos award) it is now in part occupied with enforcing (and defending) that award. Despite this "distraction", in the past two years, the firm has had hearings against the likes of White & Case in various disputes already referred to above, as well as a multibillion-dollar dispute between two high-net-worth individuals from the Middle East. There is further proof that neither firm's underlying business has slipped at all in the past 12 months.
As part of the GAR 30 methodology we collect billable hours. You can see a table showing the top 10 firms by number of billable hours opposite (we keep the exact figures submitted confidential). The table shows that both Shearman & Sterling and WilmeHale remain among the busiest firms in the GAR 30.
(Incidentally, the real number of hours the firms spend on arbitration may be even greater. Anecdotally, some large firms say they struggle to provide accurate figures for their work on disputes stemming from their M&A practice because their billing systems record the hours to the M&A group rather than the arbitration team.)
Returning to the main GAR 30 table, Curtis Mallet-Prevost Colt & Mosle continues to occupy 12th place after climbing to that spot last year. It reported broadly similar figures, apart from an uptick in the number of merits hearings overall, and bet-the-company hearings in particular. It had a busy two years defending Cyprus, Kazakhstan, Indonesia and Venezuela in some high-stakes treaty matters. And while it's best known for its work in the investor-state arena, the firm had hearings in some big commercial matters too.
As mentioned, DLA Piper is the highest riser this year, going from 23rd to 13th place. It reported three hearings over the US$1 billion mark (unlike last year, when it did not report any). These included a US$50 billion matter for Gazprom against Ukraine's Naftogaz. The firm's members also nearly tripled their number of arbitrator appointments. And with the exception of White & Case, it has the highest number of billable hours in the table.
In 14th place, Clifford Chance benefited from hearings in some large mining and oil and gas matters, including a multibillion-dollar claim brought by a syndicate of banks against a Mongolian state-owned mining company. Its members are hearing fewer cases as arbitrator (28 compared to 93 last year), but its showing in Who's Who Legal remained steady with eight names.