The Lebanese firm is home to the president of the Chartered Institute of Arbitrators
| | |
| --- | --- |
| People in Who's Who Legal | 2 |
Nayla Comair-Obeid founded the firm in Beirut in 1987. Both firm and founder have since played a significant role in the development of arbitration in Lebanon and the Middle East – preparing the first draft of the current Lebanese arbitration law and the Arabic versions of the IBA guidelines and ICC rules, for example.
A professor at the Lebanese Judicial Institute and Lebanese University and visiting professor at the University of Paris (Panthéon-Assas), Comair-Obeid has trained lawyers and judges across the Middle East about arbitration. Indeed, she claims responsibility for "an arbitration awareness campaign" across the country and the rise in undergraduate conferences devoted to the field.
She has also played an active role in the international arbitration community, serving on the board of Cairo's arbitration centre and as vice chair of the IBA arbitration committee, and becoming president of the Chartered Institute of Arbitrators in 2017.
Nowadays, Nayla is not the only Obeid on the scene. Her son Ziad joined the firm in 2011 after training as a civil engineer and practising at Freshfields Bruckhaus Deringer in Paris and Dubai. He specialises in construction disputes and sits as an arbitrator.
Daughter Zeina Obeid is also now an associate at the firm, having completed her PhD at University Paris II Panthéon-Assas on the set aside of awards in Arab countries.
Who uses it?
The firm doesn't like to name clients but the list is thought to include a number of Middle Eastern states and government entities as well as large companies from the region, in addition to some well-known international oil companies.
Track record
In recent times, it's represented a Qatari-Saudi engineering contractor in a U$53 million dispute with a German multinational over a power utility, which was heard under ICC rules in Geneva and handled an ICC case against a German-Italian conglomerate over a steel bar mill in Qatar.
It's also acted for a multinational on a dispute over a plant in Syria and advised on worldwide injunctions in support of a multibillion-dollar LCIA case.
In the courts, it's acted for Kuwaiti Airlines in annulment proceedings.
The firm has a track record of co-counselling with international firms – including Freshfields – and acting in Lebanese court proceedings relating to international arbitration. For example, it acted for Turkey in an action relating to the US$10 billion Libananco case at ICSID (in which Freshfields was counsel for the state). Comair-Obeid also appears as an expert on Middle Eastern law in international arbitrations – for instance, on Qatari law in an ad hoc dispute between an international security consultancy firm and its local partner.
It also acted for a Saudi investor against one of the largest Saudi construction companies in a complex high-value construction dispute involving a series of landmark projects in Lebanon.
Comair-Obeid is also well known for her arbitrator work. She issued a US$23 million award in a construction dispute between a Bahraini contractor and a UAE family that was enforced in London in 2012. She is a member of the ICSID panel of arbitrators.
Recent events
Comair-Obeid became the first woman from the Middle East to take the presidency of the Chartered Institute of Arbitrators. Director general of the CIArb Anthony Abrahams described her as a "tsunami" in that role, raising membership of the institute to 16,000 and overseeing three important conferences on common law and civil approaches to international arbitration, held in Dubai, Johannesburg and Paris.
At the last conference in Paris, Emmanuel Macron was even slated to attend and speak about his support for the French arbitration scene, but world politics and a presidential visit to Algeria prevented him.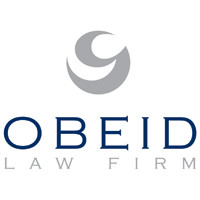 Established in 1987, Obeid Law Firm is a full service law firm servicing the MENA region from its headquarters in Beirut, Lebanon. The firm is widely recognised as one of the leading law firms in Lebanon and the Middle East; enjoying widespread recognition among local and international legal practitioners.
Recognised for its commitment to excellence and its expertise in Middle Eastern legislations, the firm has established a first-class international arbitration practice acting as parties' counsel, arbitrator or expert. The firm also advises clients at the pre and post arbitration stages - from drafting arbitration agreements to enforcing arbitral awards, foreign courts decisions and asset preservation orders.
Over the past few decades, Obeid Law Firm has been involved in some of the largest arbitration cases in the Middle East and has actively participated in various legal reforms in Lebanon and the Gulf region.
Led by Professor Dr. Nayla Comair-Obeid, the firm's arbitration team combines international best practice with local know-how. With acknowledged arbitration specialists engaged in some of the most significant English, French and Arabic-language arbitrations in the MENA region, the firm's arbitration practice offers unparalleled regional expertise and wide-ranging capabilities.
Known for its diverse arbitration portfolio, the firm has been engaged in matters conducted under various arbitration rules and subject to a wide range of applicable laws, including: Syrian Law, UAE Law, Egyptian Law, Qatari Law, Jordanian Law, Kuwaiti Law, Lebanese Law, Tunisian Law, French Law, Swiss Law, Italian Law, English Law and US Law.
Members of the firm have also been called to give expert evidence on aspects of Middle Eastern legislations before arbitral tribunals and foreign courts including the Grand Courts of the Cayman Islands and the English High Court. Numerous books and publications have been authored by the firm members in Arabic, French and English on international contracts and international arbitration, including the reference book on "The Law of Business contracts in the Arab Middle East". The firm has gained the exclusive right to provide updates on its jurisdiction for the Arbitration & ADR Newsletter on the International Law Office (ILO), and the rights to contribute a chapter to the One Belt One Road China Investment Special Focus.
Obeid Law Firm is a drafting contributor to the "GAR Reference" project and the "Guide to National Rules of Procedures for Recognition and Enforcement of New York Convention Awards" published by the International Chamber of Commerce (ICC) in Paris. The firm is also the author of the "IBA Arbitration Guide" for Lebanon and has participated in the review and translation of the Arabic versions of the KCAB rules, the IBA Guidelines for Drafting International Arbitration Clauses and the revised 2012 ICC Rules.
Website: www.obeidlawfirm.com