Expert witness providers – which are most active?
The idea that an expert witness can be a career professional and remain objective vexes some. Is there not a slippery slope that leads to saying whatever will get you hired, once testifying becomes a career?
In fact, there's good evidence that the opposite occurs. Those who testify become more scrupulous in their views.
A leading arbitrator, Doug Jones AO, put it this way during a session at the GAR Live Dubai conference a few years ago: "Repeat experts, I think, are a good thing," he said, "my experience of experts who do it repeatedly is that they get to realise that their own personal reputations depend on avoiding extreme positions which are unsustainable."
"And further, they get to understand that they will be far more effective if they put forward fair propositions that they can themselves intellectually justify," Jones said.
Jones recalled his days as counsel, where "having a view from a battle-hardened expert" could help to impart a more realistic view of the case to a client. You could talk them down, he said, from an extreme position. "It's a very positive thing for the process, " he said.
Of course there are exceptions – from time to time stories circulate of an expert who appeared to give diametrically opposite evidence on the same point in different cases (and discussions about the attendant problem of "how to police" such behaviour also take place). But for the most part, giving evidence repeatedly appears to forge a more principled expert.
So if "repeat" experts are better for all, how does one find such people?
The report you are reading – the expert witnesses section of the GAR 100 – may help.
Drawing on the methodology of the GAR 30 ranking, we have used "the hearing" as a lens through which to see how active particular expert witness firms have been recently (as with this publication's survey of law firms, we used a research period of 1 August 2014 to 1 August 2016). The results are presented in four tables.
Table 1 shows the total number of hearings accumulated by members of a firm in those two years.
Table 2 shows the (mean) average value of those hearings.
Table 3 shows the median value of those hearings.
Table 4 shows the number of cross-examinations members faced by members of a firm in the same time frame.
The source for tables 1 to 3 was data supplied by law firms (as part of our annual GAR 100 project). It is third-party validated, rather than self-certified. Table 4, meanwhile, came from data supplied by the expert witness firms themselves, along with other material we asked for.
For good measure we have included in Table 1 the number of expert witnesses from each provider who were selected to appear in our sister publication, Who's Who Legal: Arbitration 2017 for readers to cross-reference our GAR research with the research of our sister brand.
There are some notable differences between this year's results and and the preceding year's. The most active firm last year by hearings was Secretariat International; this year it is eighth, and FTI Consulting leads. But some of our results are relatively unchanged: last year the greatest number of hearings from any one firm was 69; this year it is 68. And the overall number of hearings remains similar between our two samplings.
The biggest accounting organisations do not dominate any table, though they are present near the top of several. Big Four consulting firm KPMG comes second in a number of hearings, and Ernst & Young comes third for number of cross-examinations, but no firm achieves a top three position in every table. Firms such as The Brattle Group, Haberman Ilett and Secretariat International – which started small and have grown through word of mouth – all finish high in at least one table.
Our results show that niche players can – and do – compete successfully with far larger organisations, and simply being bigger doesn't necessarily make you the most active. On the flip side, the larger consulting and accounting organisations clearly prize this sort of work – meaning the stakes are high for all concerned. Because, as the overall results show, the market for experts is as busy as ever.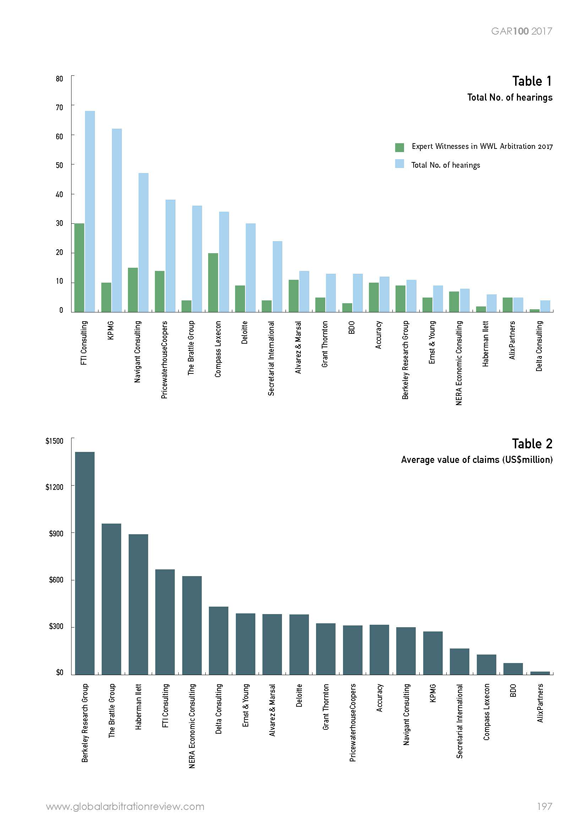 (Click for larger image)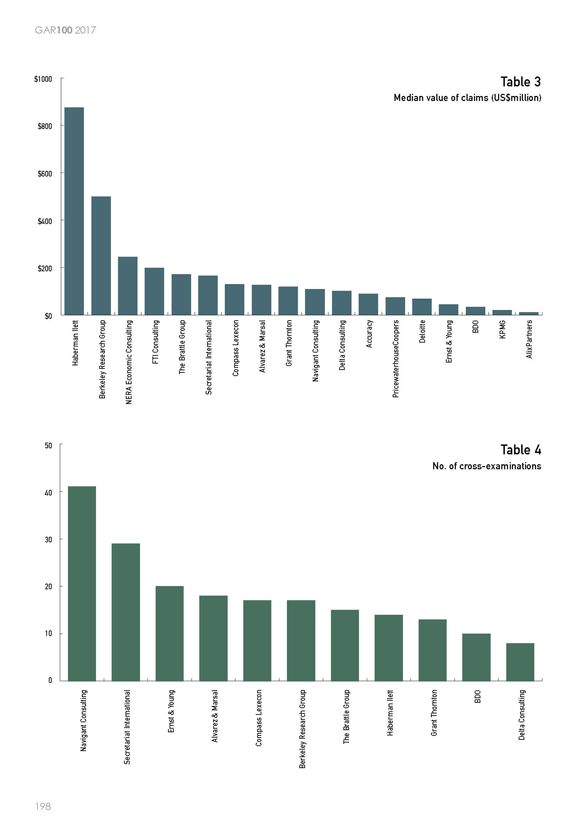 (Click for larger image)
Most Active Firms
FTI Consulting
Leading firm: People in WWL Arbitration, Total number of hearings
FTI Consulting is the firm with the largest number of people in WWL Arbitration: Expert Witnesses and the greatest number of hearings over our research period (see table 1). It also has the fourth-highest average and median value of claim (see tables 2 and 3). The firm was founded in 1982, but its international arbitration department dates from 2009, following the hiring of a number of consultants brought in to develop the firm's arbitration capabilities. These include James Nicholson, who leads the Paris disputes and investigations team and coordinates international arbitration activities in EMEA; and quantum and valuations expert James Searby in DC. The firm is appointed to act in over 80 new international arbitration cases each year, according to our research, which showed a focus on real estate, energy and construction arbitrations. Most of the work is commercial, but it has included some investor-state cases worth up to a quarter of a billion dollars. Experts recognised by Who's Who Legal: Arbitration 2017 include global international arbitration practice leader Howard Rosen in Toronto; EMEA co-chairman Chris Osborne and EMEA Head of Economic and Financial Consulting Mark Bezant in London. FTI also received Who's Who Legal Arbitration Expert Firm of the Year for 2016. Firms that told us they'd retained FTI included Allen & Overy, Clifford Chance, Debevoise & Plimpton, Quinn Emanuel Urquhart & Sullivan, Three Crowns and White & Case.
Berkeley Research Group
Leading firm: Average dollar value of claim
Berkeley Research Group comes top of our table for average value of claims – US$1.4 billion – and second for median value of claims – US$500 million. (These figures may be skewed in part because the GAR 100 data failed to capture the totality of its work: see the number of cross-examinations in its self-reported data in table 4). The firm provides expert testimony in construction, energy, financial and general commercial matters. The London office opened three years ago and international arbitration capability greatly increased with a number of hires that included Daniel Ryan, head of the firm's London office. Alongside him, valuations and damages expert David Saunders has been appointed as an expert during which he has frequently given oral testimony. Richard Boulton QC is chair of Berkeley Research Group and one of the most highly nominated expert witnesses in Who's Who Legal: Arbitration 2017. He was appointedQueen's Counsel in 2011, having transferred to law from accounting (Boulton reached the global management tier of Arthur Andersen before changing path, and then took silk within a mere eight years of his switch). Managing director Heiko Ziehms is a disputes specialist in the fields of M&A, construction and insolvency.
Haberman Ilett
Leading firm: Median dollar value of claim

Haberman Ilett comes top of the table for median value of claims with US$875 million and third for average value of claims with US$889 million. Formed by erstwhile EY Disputes leader Philip Haberman and former Deloitte Forensic and Dispute Services partner Frank Ilett in 2013, it is more of a boutique operation. It has an arbitration team though with an impressive 40 people according to our research.It is also home to Liz Perks, who specialises in valuation and quantum opinion for disputes, and who has been in international arbitrations under a range of rules including ICSID. The firm has worked on cases where the damages claimed reach up to US$10 billion and has been instructed by magic circle law firms including Allen & Overy and Clifford Chance, and other international firms including Jones Day and White & Case.
Navigant Consulting
Leading firm: No. of cross-examinations
Navigant comes top of our cross-examinations table (41 over our research period). It is also third by number of hearings. The firm has 30 arbitration experts and, although it came to prominence on investor-state arbitrations including Glamis Gold v United States, Cargill v Mexico and Plama v Bulgaria, it is today also well regarded for commercial arbitration, particularly energy and natural resources matters on behalf of multinational clients. Its network is global: it has offices in North America, Asia, Europe and the Middle East. Brent Kaczmarek leads Navigant's international arbitration group and Kiran P Sequeira is managing director of the disputes and investigations group. Navigant's team have worked on arbitrations under all the major international centres, including ICSID and the PCA.
KPMG
KPMG has the second-highest number of hearings over our research period, making it one of the most active providers. (Note, however, that it didn't provide cross-examination data for table 4.) A member of the Big Four group of consultancies, the firm founded its international arbitration practice 30 years ago, and according to our research it can draw on hundreds of personnel worldwide who have experience of international arbitration. Nicholas Good is headofthe dispute advisory services team and is an arbitration specialist in loss quantification and valuation; Jean-Luc Guitera is head of the forensic department in France and is very visible in that market; Fernanado Cunado leads the dispute advisory services group in Spain; and Pablo Bernad has acted as an independent expert in over 200 cases internationally.
The Brattle Group
The Brattle Group, "a small company which packs a punch when it comes to intellectual horsepower" according to The Vault, a guide for graduates, has the second-largest average value of claims in our survey, at US$956 million, putting it ahead of every member of the Big Four on that metric. Only Berkeley Research Group (with double the number of arbitration personnel on its books) did better. One notable recent matter for the firm was an ICC arbitration about a nuclear power plant that resulted in an award for their side of over €500 million. The firm has taken part in international arbitration almost since its inception in the 1990s as a five-person shop, thanks to its expertise in energy matters. Today it is 250+ and home to a Nobel prize winner (Dan McFadden, co-winner in 2000). It has offices across the world, in locations as diffuse as Berkeley, California; Cambridge, Massachusetts; Toronto; and Rome and has experience in both investment and commercial arbitration. Carlos Lapuerta was recently an expert on a breach of contract case on a natural gas supply in which the claimant was awarded US$185 million plus interest. M. Alexis Maniatis is the leader of the international arbitration practice and has provided expert witness testimony and counsel on valuation and damages claims. Stewart Myers in Cambridge, MA has acted as an expert witness testifying on the cost of capital, valuation and determination of damages. Dan Harris, who works from Rome and London, has 15 years of experience on gas and electricity matters.
Secretariat International
Secretariat International has the second-greatest number of cross-examinations in our research – 29. The firm was founded in 2008 by Don Harvey, a leading expert for construction disputes who previously practised at Navigant in London. The new firm focused on construction – and today many of its members are recognised for their expert witness work in Who's Who Legal: Arbitration 2017. Harvey himself, now based in Atlanta in the US, continues to give expert evidence in such disputes, on topics such as delay, disruption and valuation of damages. Amit Garg in Singapore is head of the Asia office and has served as an expert on international disputes relating to projects across the world. Ted Scott heads the Los Angeles practice, and Mike Saulsbury is a director in Dubai, where the firm recently opened a new office. Despite the firm's weighting to the US, its work is worldwide and members have been in front of tribunals in Malaysia, Stockholm and Dubai, to mention just a few.
NERA Economic Consulting
NERA Economic Consulting has the third-largest median value of claims and the fifth-largest average value of claims at US$624 million.NERA was established in 1961 and considers itself the world's first economic advisory consulting firm. It has over 25 offices in North America, Europe and the Asia-Pacific region. International arbitration practice leader Antoinette Pincott is an accounting and damages expert witness and has often given evidence under cross-examination.Chudozie Okongwu is head of NERA's European finance, litigation and dispute resolution group, and he has worked as an expert on matters of finance, economics and valuation. Chairman Andrew Carron is a noted expert witness in Who's Who Legal: Arbitration 2017.
Ernst & Young
Ernst & Young has the third-greatest number of cross-examinations with 20 (see table 4). It also has the largest average value of claims of the Big Four consulting firms and the sixth-largest average value of claims overall in this edition of the survey. The London team has provided expert witness and dispute services since the early 1990s. It began offering arbitration services in Paris and Mumbai in 2010, the year of the arbitration department's official creation. The French arbitration practice is led by Frédéric Elkeslassy, while the Mumbai office is led by Arpinder Singh, who is head of the India fraud investigation and dispute services (FIDS) practice. Five of Ernst & Young's experts feature in Who's Who Legal: Arbitration 2017 including UK dispute services leader Richard Indge, and Maggie Stilwell who specialises in dispute advisory matters, including quantum and loss of profits claims. Trevor Dick is based in Hong Kong and has over 20 years of experience.
PricewaterhouseCoopers
PricewaterhouseCoopers has the fourth-largest number of hearings at 38 (table 1), and the data it provided included evidence of work on several billion dollar arbitrations. Formed by the merger of Price Waterhouse, and Coopers & Lybrand in 1998, the firm asserts that it specialises in complex quantum and delay matters when it comes to international arbitration, and data from the GAR 100 law firm survey shows that it has in recent times been instructed on real estate arbitrations worth over US$100 million, telecoms arbitrations worth over US$200 million and investor-state arbitrations worth upwards of US$1 billion. Gerry Lagerberg is head of the firm's international arbitration practice, and John Fisher leads the disputes practice.
Alvarez & Marsal
Alvarez & Marsal comes fourth for number of cross-examinations, with 18 (table 4). The firm acts in both commercial and investor-state arbitrations and has experience working under most major rules. Luke Steadman is co-head of international arbitration and has provided expert evidence and testimony in numerous settings. Alongside Steadman, co-head of international arbitration Alexander Demuth leads the firm's German disputes and investigations practice and is well known in that market. From the same part of the firm, managing director Laura Hardin has over 20 years' experience of damages calculation in international arbitrations and gave evidence in the first ICSID case against Germany. Alvarez & Marsal worked with several international law firms including Clifford Chance, Eversheds, Hogan Lovells, Baker Botts and Noerr during our research window.
Compass Lexecon
Compass Lexecon's arbitration team has seen the fifth-largest number of cross-examinations over our research period (17). Created in 2008 through the merger of Competition Policy Associates and Lexecon, the firm has an arbitration team that is active in the US, Europe and Latin America. It has worked on both investment-treaty and commercial arbitration over the years. Recent engagements include acting for Crystallex Corporation in its arbitration against Venezuela, where it helped the firm secure a US$1.39 billion award (including pre-award interest). Experts on this matter were Manuel A Abdala and Pablo T Spiller. Information from our GAR 100 law firms showed that during our research window Compass Lexecon worked with Three Crowns, Cleary Gottlieb Steen & Hamilton, Quinn Emanuel Urquhart & Sullivan, Freshfields, King & Spalding, Lalive and Boies, Schiller & Flexner.
Deloitte
Deloitte, a member of the Big Four, was in 30 hearings during our research period (table 1). The average value of its claims was US$384 million and the median figure was US$70 million. Material from the law firm part of the GAR 100 research showed it has been instructed in investor-state arbitrations worth up to US$75 million and commercial arbitrations worth several US$ billion. Simon Cuerden and Philip Rees, both based in London, are key figures who are recognised by Who's Who Legal: Arbitration 2017. Cuerden is head of the disputes and investigations practice of Deloitte Forensic in the UK, while Rees focuses on valuations and assessment of damages in arbitration proceedings.
Accuracy
Accuracy's team testified in 12 hearings over our research period. Founded in Paris, by ex-Arthur Andersen partners, it has expanded into the Middle and Far East on the back of various recent hires including those of Jonathan Ellis in Singapore and Zane Hedge in Dubai. According to our research the firm's forensics, litigation and arbitration work now accounts for over one third of its revenue. Hervé de Trogoff in London has been appointed as a delay expert witness in numerous arbitrations. Erik van Duijvenvoorde in London and Paris has 25 years' experience of disputes of all stripe and Roula Harfouche also in London works on valuation and has testified numerous times. In recent years law firms such as Latham & Watkins, White & Case, Jones Day and Lalive have all instructed members of Accuracy, and the firm has given evidence on behalf of companies such as LVMH, EDF and The Carlyle Group.
Grant Thornton
Grant Thornton was engaged in 13 hearings and 13 cross-examinations over our two-year research period. Its average value of claims was US$327 million. Founded in 1981, the firm has developed experience in both commercial and investor-state arbitration. Nick Andrews in London is head of disputes in the forensic and investigation services department. Will Davies, also in London, has been appointed as an expert in proceedings in numerous jurisdictions; his experience includes valuations and loss of profits, transactions, breach of contract, insolvency, insurance and financial matters. Our research shows that the firm has acted in numerous investor-state arbitrations including a US$200 million claim by a multinational bank in relation to a power plant and numerous oil and gas cases. It also acted for the Russian government on a US$50 billion plus Yukos-related claim.
BDO
BDO was engaged in 13 hearings and 10 cross-examinations over our research period. A specialist forensic accounting firm with origins in expert witness work for courts in the UK and the USA, BDO traces its roots back to 1903. Since taking on its present guise in 1994, the firm has expanded its arbitration capabilities across its international network and has been instructed by numerous states, including Egypt, Spain, Albania, Greece and Kyrgyzstan. Head of Forensic Services and founder of the international arbitration department Gervase MacGregor has acted as expert witness in hundreds of cases in courts and before tribunals and has given oral evidence 44 times over his career. Andrew Maclay has worked on investment and commercial arbitration including expert determinations, while Stephen Peters also has international arbitration and contentious insolvency experience. The team's recent instructions include a large gas case on behalf of the Egyptian government and a construction dispute in Central America.
AlixPartners
AlixPartners has 28 practitioners in the UK, Germany and Hong Kong, according to our research. The firm founded its financial advisory services practice, which includes expert witness services, in London over 10 years ago. AlixPartners undertakes commercial and investor-state arbitration in numerous jurisdictions relating to sectors including renewable energy, post-M&A disputes, telecommunications and infrastructure. Our research shows expert appointments in arbitrations in London, Geneva, Washington DC and Hong Kong by leading law firms such as Herbert Smith Freehills, Shearman & Sterling and Mayer Brown. Managing director Kathryn Britten has provided expert witness and expert determination services for over 23 years and Andrew Grantham leads the Financial Advisory Services practice in EMEA. Kai Schumacher in Munich is recognised by Who's Who Legal: Arbitration 2017 as a leading expert witness and one of Europe's top arbitration experts.
Delta Consulting Group
Delta Consulting Group was established in April 2000 by Jeffrey Fuchs and Mark Dungan and today provides expert witness services for all types of construction dispute, including defects and claims, contract compliance issues, cost and scheduling overruns and site conditions. Fuchs and Dungan began Delta Consulting Group with decades of experience as construction engineers and brought that knowledge to the firm. Delta Consulting Group has four offices in the US, which makes up its entire coverage, but its average value of claims is sixth highest in our table (US$432 million), suggesting it is very active within the United States. Dakus Gunn provides expert opinions on complex delay analysis for infrastructure projects; Gene Lash has testified in forensic accounting and economic damage matters in US courts and private arbitrations; and Charles Heckman has over twenty five years of experience in the construction industry and has provided expert witness services on numerous occasions. Clients include corporates, engineers and contractors, financial companies and law firms. The firm's recent engagements include providing expert testimony on a breach of contract and improper termination claim for a construction firm, and providing expert witness services for an aerospace and defence company; both occasions resulted in the client being awarded significant damages.
GAR would like to thank Stuart McMillan, of Who's Who Legal, for his original research and analysis.