Obituary - Emmanuel Gaillard 1952-2021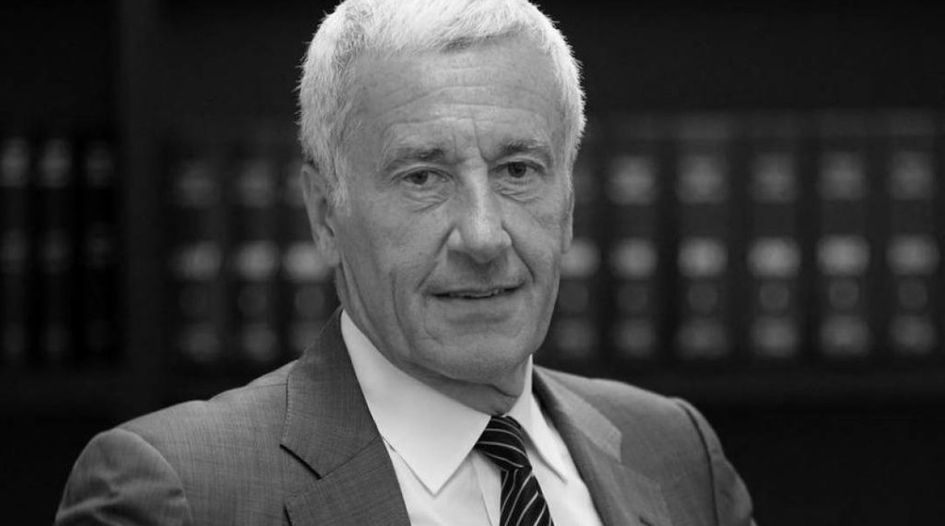 The arbitration community is mourning Emmanuel Gaillard, a totemic figure in the field, who has died suddenly aged 69, just weeks after leaving Shearman & Sterling to form a new firm and embark on a new chapter in his career.  
Although previously in good health, Gaillard died in hospital in Paris on 1 April after suffering an aortic dissection. Like Molière who collapsed on stage, he fell ill in mid-hearing – performing the cross-examination he loved – and was rushed to hospital, surviving just a few hours. Many tributes to him have already been published, along with obituaries in Le Monde and Le Figaro.
Gaillard was a leading authority on international arbitration and an in-demand counsel and arbitrator, most famous for his work on the Yukos arbitrations arising from the collapse of the Russian energy giant – in which he and his team secured the largest award ever, worth US$50 billion, against Russia.
At the same time, he was a renowned academic – a professor at University of Paris XII for 26 years and then at Sciences Po for 9 years, with recent important teaching roles at Harvard and Yale.
He was known for his writings on the legal theory of international arbitration and the sociological significance of the field – and especially for his theory that arbitration is part of a transnational legal order, rendering the law of the seat irrelevant.  In recent works, he also advanced thinking on issues such as transparency, abuse of process and corruption.
Gaillard founded the international arbitration practice of Shearman & Sterling in 1987 and led it for nearly 35 years, propelling it to top spots in the GAR 100 and other rankings. He left Shearman in February this year to launch Gaillard Banifatemi Shelbaya Disputes with long-term colleagues Yas Banifatemi, Mohamed Shelbaya and Benjamin Siino and four other Shearman partners, in the hope of replicating the success of the Shearman practice in a single-practice environment.
In creating and leading those practices he revealed himself to be not just a brilliant advocate, arbitrator and academic but a passionate manager, mentor and entrepreneur – fully engaged with all aspects of legal practice as well as the theory behind it and playing a transformative role in young practitioners' careers.
Unofficially, he led more than just these practices, becoming the figurehead of French and French-style arbitration and helping to enhance its standing globally. He was "our pride and our banner" says Thomas Clay, a fellow professor – rising above the normal professional and academic rivalries because he was so admired. His quintessentially French style, as well as his frequent references to French culture, contributed to his role as a national poster boy. 
Gaillard also became one of several figureheads of international arbitration globally, mentioned in the same breath as the likes of Pierre Lalive, Jan Paulsson, Albert Jan van den Berg and Gary Born, leading advocates, arbitrators and academics like him. With official and behind-the-scenes advisory roles for governments and institutions all over the world, he contributed to the development of practice in Asia, Africa and Latin America as well as Europe and to the growth and diversification of the field. 
According to Who's Who Legal, there was no-one in the profession "better or even equally formidable. He eclipses everyone." In a tribute, the ICC International Court of Arbitration called him "the leading arbitration counsel, arbitrator and academic of his generation."
The path to Shearman
Gaillard was born on New Year's Day 1952 and grew up in Chambéry, in the Savoie area of south east France. In a recent interview with Neil Kaplan QC for Delos Dispute Resolution, he related how he was inspired to study law by a conversation with a lawyer in a small family hotel at a resort in Savoie when he was 16 – about various defences and loopholes that could be used to escape criminal convictions.
In retrospect, he said, much of what he was told was wrong "but I loved it".  
He was admitted to the Paris Bar in 1977, at age 25, after studying at University of Paris II Panthéon-Assas, and completed his PhD, Le pouvoir en droit privé, in 1981. A year later he became a professor, passing the Agrégation exam with flying colours.
One of his first teaching gigs, aged just 32, was as a visiting professor at Harvard – at the invitation of Arthur von Mehren and Donald Trautman, who he had met at the Hague Conference on Private International Law a few years earlier. The three were great friends and discussed legal questions late into night.
On his return to France, Gaillard explained in the Delos interview, he wanted to combine full-time teaching and writing as a professor at Paris XIII with full-time practice, rather than being a mere consultant, "because I always liked to do things seriously".  
His first job as a practitioner was at a small but prestigious boutique law firm in Paris called Bredin & Badinter [now Bredin Prat], which was run by 2 other professors. This brought him his first arbitration client – Algeria's state-owned oil company Sonatrach.  
Sonatrach had been represented by Shearman & Sterling since Algeria's independence but used to turn to Bredin for French litigation and for arbitrations in French seated in Geneva as the US law firm was not able to handle these. Eventually Shearman recognised the lacuna, hiring Gaillard to run its Paris office and handle its French law disputes.  
Gaillard went further for the firm in setting up one of the first dedicated international arbitration teams in existence (along with those of Gide Loyrette Nouel, Coudert Brothers and, soon, Freshfields). 
The gamble paid off, with the team securing many more instructions from Sonatrach (a client that accompanied him throughout his career) and acting on seminal commercial arbitrations in the energy and construction fields in the mid-to-late 1980s and early 1990s. 
Gaillard also acted for Egypt in the famous Pyramids case, SPP v Egypt, his very first investment arbitration – which pitted him against a young associate from Coudert Brothers by the name of Jan Paulsson – and collated ICSID jurisprudence for the French Journal of International Law – Clunet, from 1986.
An early and noted tribunal he presided over as arbitrator was the ICC case of Salini v Ethiopia, which has become the leading supporting authority for any panel faced with an anti-arbitration injunction issued by the courts of the seat and is said to exemplify his courage as a decision-maker.
Over time, Shearman's arbitration practice expanded to different parts of the world – though none of its other branches generated the waves of Gaillard's core team in Paris. As well as leading the global practice, Gaillard was managing partner of the Paris office in Avenue des Champs Élysées – "a necessary evil", he joked, as he did not like to be answerable to others – and became the first non-American to sit on the firm's policy committee. 
Building an investment practice
More than 30 years ago, Gaillard was already voicing important theories about international arbitration. It was he who first articulated the negative effect of competence competence – a principle requiring national courts, faced with a party challenge to an arbitration agreement, to defer to the arbitrators on the existence, validity and scope of that agreement until the completion of the arbitration. In a later article, Gaillard called this "the rule of priority". 
In 1996, he published Fouchard, Gaillard, Goldman on International Commercial Arbitration ­with Philippe Fouchard – another French arbitration luminary who died prematurely in a plane crash in the Sinai desert in Egypt – and Berthold Goldman, who has been described as Gaillard's "lodestar". 
At the time it was the most comprehensive volume available on the practice of arbitration, and it remains a seminal work. An English version followed in 1999 and cemented Gaillard's reputation for commercial arbitration at a time when he was increasingly branching into the still novel field of investment arbitration with a new colleague, Yas Banifatemi, at his side.
Banifatemi had joined Shearman in 1997 as an associate after completing her PhD and was quickly talent-spotted by Gaillard, who had little interest in office hierarchy and simply surrounded himself by those he found good and dedicated, whatever their level of experience. She was to become his partner at the firm, the co-developer of investment arbitration and leader of public international law, and his companion-in-arms in most of the major cases of his career.
The first investment case the pair worked on together was CSOB v Slovakia, in which they secured a partial jurisdictional win for the state.
Later, they successfully acted for a British investor against Egypt in the Wena Hotels case – which ended in 2001 and is often described as the first significant ICSID case of the modern era.
In a famous paper inspired by Wena, "The meaning of 'and' in Article 42(1) of the ICSID Convention", they put forward the view, now universally accepted, that ICSID tribunals have full discretion to determine the applicable law on the basis of both public international law and the law of the host state, depending on the issue in relation to which it needs to be determined.
Gaillard and Banifatemi also acted together on the first cases involving umbrella clauses (SGS v Pakistan and SGS v Philippines) and most-favoured-nation and denial-of-benefits clauses (Plama v Bulgaria). 
Then there were the Yukos arbitrations, brought by former majority shareholders in the oil giant against Russia over the alleged expropriation of their investment through a series of punitive tax measures – which played out over 10 years and involved 37 days of hearings, 6,500 pages of written submissions and over 11,000 exhibits. 
Gaillard, Banifatemi and Philippe Pinsolle (now of Quinn Emanuel Urquhart & Sullivan) took on the instruction in 2003, soon after the arrest in Russia of Yukos founder Mikhail Khordorkovsky and as the events at the heart of the case were still unfolding. The original claim was US$114 billion.
The first hurdle – jurisdiction – was crossed in 2009, when the tribunal chaired by Yves Fortier QC upheld the provisional application of the Energy Charter Treaty, which Russia had signed but never ratified.
To Gaillard, this result was monumental, putting an end to Russia's attempt to portray the treaty as a "stillborn" instrument.  A year after it was released, he took the unilateral decision to publish the awards on jurisdiction without Russia's consent because of their importance and precedential value.
The tribunal's reasoning, he noted with pride, closely reflected his team's projections in their initial memo on jurisdiction.
The legal theory of international arbitration 
While some practitioners might have been subsumed by Yukos, or even crumbled under its weight, Gaillard found a way to balance its twists and turns with other work, projects and prolific output as an academic.
In the 2000s, he sat on numerous tribunals and annulment committees and became the subject of one of the first court decisions on issue conflict in the UNCITRAL case of Telekom Malaysia v Ghana, when the Hague District Court ruled (after Gaillard had disclosed the circumstances to the parties) that advocating the annulment of an ICSID award as counsel while weighing the value of that award as part of the evidence before him as arbitrator required "incompatible attitudes".
Gaillard was given 2 weeks to choose which role he would continue and decided that both he and Shearman should withdraw as counsel in the ICSID annulment proceeding. 
He also handled high profile commercial arbitrations such as the politically sensitive Taiwanese frigates case, concerning alleged kickbacks paid by the French defence company Thales to secure a ship-building contract, and an ICC claim brought by Dow Chemical Company against Kuwait.  
He founded the International Arbitration Institution, which aimed to enhance access to key figures in the field at a time when no roster of international arbitrators existed, in 2001; and the Arbitration Academy, which provided advanced teaching to 200 students and young lawyers every summer, in 2011. These prestigious bodies contributed to Paris's reputation as a pre-eminent seat of international arbitration at a time when it was coming under threat from other jurisdictions. 
He also advised on the reform of the French arbitration law (finalised in 2011) – bringing about key changes including the reversal of the rule that cases should be confidential unless otherwise agreed with the parties. He saw this rule as not intrinsic to arbitration and in fact detrimental because it made the process seem like a form of "secret justice".
On the academic side, he produced numerous books and articles and turned his 15 year-long collation of ICSID jurisprudence for Clunet into a book in 2004.
The work that gained him most attention, though, was "Aspects philosophiques du droit de l'arbitrage international" – the first-ever volume to articulate a legal theory for international arbitration – which he published in 2008 and later rewrote in English in a style more likely to appeal to Anglo Saxon sensibilities. 
Consistent with the approach of French courts in cases such as Hilmarton and Putrabali, the book set out his view of a transnational legal order that is independent of the law of the seat of arbitration and unaffected by regional legal impediments – whether anti-suit injunctions, the Brussels Regulation or domestic laws that militate against competence-competence.
"It is, if you like, the theorisation of an attitude," he told GAR, noting that an experienced arbitrator, when hearing a dispute between a US party and a Japanese party in an arbitration taking place in Cyprus, does not think or behave "as if he were part of the Cypriot legal order."
Many in the field of international arbitration expressed their admiration for the book, such as Pierre Lalive (who Gaillard once called the "most courageous" arbitrator he had ever known). Others, such as Gary Born and UK Supreme Court justice Lord Mance, challenged his theory, but all conceded that the book had revolutionised the field. In the words of Clay, "There is no arbitration specialist who has not... devoured this book... No one else but Emmanuel could have written it". 
Born out of a course Gaillard gave at the Hague Academy, the book was translated into Arabic by his future partner Mohamed Shelbaya, as well as into Mandarin, Spanish, Portuguese and other languages. Gaillard enjoyed the controversy it generated, even challenging Lord Mance to a public debate of the merits of his theory, which was held in the august surroundings of the grande chambre of the French Court of Cassation.
Reflecting on the theory, Gaillard's former colleague Pinsolle says that, "beyond its abstract justification, the doctrine... found obvious concrete applications. It...has allowed French law to recognise awards annulled at the seat when this annulment was questionable."
Celebrity and sociology
The award of US$50 billion to the Yukos shareholders in 2014 eclipsed Gaillard's other successes before and after, not least his win of US$2.4 billion for Dow in its case against Kuwait two years before, which until then had been the largest commercial arbitration award ever rendered.
The Yukos shareholders were also awarded three-quarters of their legal fees of US$60 million and the full costs of the arbitration of nearly US$6 million. 
The award brought Gaillard international celebrity – for 2 successive years he was named as one of the 50 most influential French people in Vanity Fair, alongside the likes of philosopher Bernard-Henri Levy, economists Christine Lagarde and Dominique Strauss-Kahn, film director Luc Besson, fashion designer Christine Laboutin, actress Charlotte Gainsbourg and musician Daft Punk.
It also brought death threats, which he shrugged off in his usual sanguine style. 
Un-phased by fame, Gaillard had a new intellectual preoccupation – the sociology of arbitration – which he made the subject of several papers and lectures, including the Freshfields Arbitation Lecture in 2014.
In these, he revisited the work of Yves Dezalay and Bryant Garth in the 1990s by looking at international arbitration as a social construct, observing the interactions of its main actors and their "ritualised" behaviour at hearings and conferences.
Over 40 years, a world with a small number of actors who possessed "a strong common set of shared values" and performed different functions on an occasional basis (advocate, arbitrator, expert) had become a world of multiple actors who occupied specific, professionalised functions, he argued.
He also recognised the "constellation" of more peripheral actors who had gathered around the essential actors, including "merchants of recognition" such as GAR, whose events and awards ceremonies provided opportunity for practitioners to gain "symbolic capital".
And he noted the arrival on the scene of NGOs, which he said used amicus curiae and aggressive press campaigns to argue that arbitration should have more regard for human rights, the environment or other interests or to deny the legitimacy of investment arbitration all together. 
"It was interesting for me as it was a completely different way of looking at the system, not looking at what is right or wrong or what should or should not exist," Gaillard told Kaplan in the Delos interview.  
Pendulum swings
In 2016, the Hague District Court dramatically set aside the Yukos awards on jurisdictional grounds after accepting Russia's position on provisional application – only for the decision to be reversed on appeal 3 years later.
Gaillard took the pendulum swings in his stride while voicing frustration at the attempts of Russia (represented by Albert Jan van den Berg) to present what he said was repackaged evidence of the shareholders' "unclean hands" in the appeal proceedings. He told GAR this was "old wine in new bottles".
He was equally scathing of the state's arguments that the tribunal had improperly surrendered decision-making to tribunal secretary Martin Valasek, branding them "simply ludicrous".
While the battle to get the awards upheld and enforced continued, Gaillard had a bulging portfolio of cases that were not Yukos – including acting for EDF in an ICC battle with the southern German state of Baden-Württemberg over the acquisition of an energy company and for the government of Egypt and its national energy companies in commercial and treaty disputes arising from the Egyptian revolution. Like most of his cases nowadays, these were worth billions. 
He also took on the controversial representation of French billionaire Bernard Tapie in a case arising from an allegedly fraudulent arbitration set up by the government of President Nicolas Sarkozy, which had caused a national scandal. "I am aware of the passions that the case has unleashed but my only interest is for the law to triumph at last," he told Le Figaro.
And he represented Algeria in an ICSID dispute with telecoms investor Orascom – the award setting an important precedent on abusive parallel proceedings initiated by investors in the same vertical corporate chain.
More recently, he started acting for Angolan oil producer Sonangol in LCIA and Netherlands Arbitration Institute arbitrations arising from the "Luanda leaks", a trove of over 700,000 documents shedding light on the business empire of Isabel dos Santos, the daughter of Angola's former president José Eduardo dos Santos.
A chaos theory
Events in Europe provided a new focus for Gaillard, including the controversial ruling of the European Court of Justice in Achmea that investor-state arbitration clauses in intra-EU bilateral investment treaties were incompatible with EU law.
Gaillard had recognised the way things were going as early as 2011, when he gave a speech on the EU's plan to level the investment playing field within the bloc by quietly pressuring states to withdraw from intra-EU investment treaties.
In this speech, he compared the EU's championing of transparency, rule of law and investment protection with Rousseau's hypocritical celebration of family life in Emile, after abandoning his own 5 children to the French welfare system. The result, Gaillard warned, would be the loss of direct investment into EU member states and its re-routing via countries such as Switzerland and Singapore.
In his Lalive Lecture in 2018, Gaillard again put the spotlight on the EU, reflecting that the decision of the ECJ in Achmea was down to the influence of NGOs and highlighting the illogicality that the decision did not extend to commercial arbitration even though commercial arbitrators routinely interpret and apply EU law.
He also propounded a new theory that the drive for harmony and coherence in international arbitration is detrimental, since an element of chaos is needed for it to evolve. Lack of consistency in case law, for example, is not problematic, he argued – as a form of Darwinian natural selection means the best decisions become "jurisprudence constante", while the worst are remembered as isolated mishaps.
Other recent preoccupations of Gaillard were the need to sanction abuse of process in international arbitration – he gave several speeches exposing the "dirty tricks" and "legal terrorism" he had encountered – and to clarify the proper approach to corruption.  He also sought to promote understanding of the workings of the New York Convention with a website and guide produced in conjunction with UNCITRAL and the University of Columbia. In this project, he was assisted by Benjamin Siino, who worked on many cases with him and was to become his partner and one of the co-founders of Gaillard Banifatemi Shelbaya Disputes.
Following his revered work on the sociology of arbitration, Gaillard often threatened to produce a psychiatric study of its actors. This was quite possibly a joke but, in the words of Clay, the arbitration community "salivated in anticipation".
Lockdown confidences
Until early 2020, Gaillard, like other leading arbitrators, spent much of his life travelling. Recent destinations included Angola; the US east coast (to teach at Yale and Harvard); Mauritius (where he chaired the advisory board of the Mauritius International Arbitration Centre); and China (where he had been appointed to an experts committee of the Supreme People's Court tasked with developing policies and interpretations relating to international arbitration among other matters). 
The start of the pandemic saw him, like others, locked down at home with his casework, with hearings and meetings conducted only by Zoom, although he did visit Georgia to advise on investment arbitrations brought by Georgian nationals.
It was during lockdown that he gave his interview with Delos, speaking from his apartment in Paris in front of a work of modern art and a procession of small, stone elephants which he said reminded him of his love of Africa and its wildlife.
In the interview, Gaillard stuck by his famous belief in a transnational legal order, explaining how the irrelevance of seat is enshrined in the New York Convention with its bar on double exequatur. The intention is that the courts of each jurisdiction where enforcement is sought should look at the award itself and not at the ancillary rulings of judges around the world, as US and UK courts so often do, he argued. "Why should they care more for a what judge said than the arbitrators?"
No change was needed to the convention to clarify this, he continued – arguing that reform would be "crazy" at this time because state consensus on the desirability of inward investment (which existed when the instrument was drawn up in 1958) has now been replaced by fear of being on the receiving end of claims.
He also built on his previous sociological observations, noting how the latest new entrants to the field included 3rd party funders and service providers selling remote arbitration services during the pandemic.
Questioned by Kaplan, Gaillard conceded that he was in some respects more of a common lawyer than a civil lawyer, because of his love of cross-examining witnesses and his belief that costs should follow the event. He noted that Paris has just set up an international court allowing litigants to borrow some common law procedures, another project on which he had advised.
He went on to mount a defence of arbitration in its pure and traditional form, with party-selected arbitrators who, like him, also worked as counsel. Far from being a problem, such "double hatting" is desirable for clients because of the experience and different perspectives it confers and because advocate-arbitrators' independence is not compromised by the hunger for further appointments, he explained. "If we want a cast of professional decision-makers, we have the courts; we don't need to go to arbitration."
Issue conflict is a legitimate ground of challenge if there has been a real pre-judgement but arbitrators should not be targeted just for having performed multiple roles, he suggested. 
Gaillard also called for arbitrators to be less "naive" in letting obvious corruption go unchallenged and tougher in resisting guerilla tactics and unreasonable requests.
"To accept a delay or order production of documents just because one party wants it and could attack the award is not doing justice," he said. "No award has been set aside because of the refusal of a 10th request for an extension. The opportunity to be heard gives parties just that, an opportunity. They can't have everything they want."
Asked what advice he would give to young practitioners, Gaillard told Kaplan that, while specialisation in international arbitration is desirable, "before you know a bit about every law in the world you should be a specialist in one legal system, which you know well."
He also advised specialising in areas that might form the subject matter of disputes – since arbitration is just a "technique" to address issues of substantive law – admitting that his own strengths had been in construction law and quantum.
That said, he confided that he had not specialised in international arbitration early enough, instead wasting time writing a book on EU law that was out of date the moment it was published.
With respect to Yukos, Gaillard spoke about Russia's pending appeal against the reinstatement of the award before the Hague Supreme Court, explaining that the appeal will be decided on legal issues only, with the decision of the Court of Appeal standing unless the law was wrongly applied.
"Now Russia is asking to refer certain questions to the ECJ because it think it has a better chance," he said. Regrettably, Gaillard will not see the completion of the saga.
The Gaillard school
At the launch of his 2008 book on legal theory, the late VV Veeder QC described Gaillard as the "star striker" of international arbitration, who excelled in his roles as "influential professor… independent advocate…. serious arbitrator and … brave author."
Those paying tribute to him have echoed this view, praising him for stunning legal wins; trailblazing arbitral awards; innovative writings and speeches; courageous pursuit of Russia as a recalcitrant superpower; and for training and giving confidence to a generation of arbitral leaders including Pinsolle, Eric Teynier, John Savage, Todd Wetmore, Peter Griffin, Joachim Knoll, Dany Khayat and Emmanuel Jacomy. 
To this list should be added the other co-founders of Gaillard Banifatemi and Shelbaya Disputes and partners Ximena Herrara-Bernal, Coralie Derrigade, Maude Lebois, Daniel Reich and Tsegaye Laurendeau.
He has been further praised for his warmth, kindness and approachability; courtesy and grace in defeat; self-deprecating humour; and youthful energy and sense of fun, which made his sudden death all the more shocking. Several have spoken of his "panache" and his distinctive speaking-style and simple and elegant turn of phrase.
Speaking to GAR, Banifatemi says that in the run-up to his death Gaillard had been happier than he had ever been. A trip to Angola in late 2019 had brought him much joy – "he loved Africa and had deep respect for African cultures that began at the age of 16 when he helped build a school in Senegal " she explains. "He was delighted to be representing an African company the first time that a country in the continent has dared to prosecute corruption by the family of former rulers."
He had also enjoyed the routine and work-life balance that lockdown had brought.
Although initially sceptical about virtual hearings, he had embraced the "new normal" and his environmental consciousness and concern for arbitration costs meant that he hoped that many pandemic practices would survive. "He had always chastised colleagues for filling hundreds of binders with what would become unread paper and now he saw how jetting around could also be much reduced," Banifatemi says.
He was excited about the launch of the new boutique and "happy to be free".
Banifatemi adds that Gaillard had been working on his general course for The Hague Academy, which was due to be held in summer 2022 and at which it had been planned to present him with a Liber Amicorum. She has been co-editing that with fellow professors Marie-Elodie Ancel and Jean-Baptiste Racine (of Panthéon-Assas) and Mark Wu of Harvard Law School.
In a firm statement, Banifatemi, Shelbaya, Siino and other colleagues say Gaillard  was "an inspirational mentor, teacher and colleague," who "developed his own unique brand of advocacy consisting in fearless advocacy, incisive strategic thinking and the willingness to consistently challenge to orthodoxies."
"He mastered the art of arbitration and his legacy continues in GBS Disputes, a team trained in and committed to the Gaillard school of arbitration", they say. "We... are so grateful...to have accompanied such a great man on part of his journey." 
Former colleague Pinsolle says Gaillard was both a great theorist and "eminently practical", with the "ability to anticipate" that is the sign of a great lawyer.
"He knew better than anyone how to judge the strengths and weaknesses of a case and, before anyone else, how to advance the aspects that were most favourable to him... His strategic vision was crystal clear and his execution was brilliant."
His arbitral awards were as "lucid" as his legal arguments and "marked by a deep sense of justice accompanied by an obvious desire to educate, which made them easy to read."
His loss, says Pinsolle, is a reminder that "genius is not immortal". "Whenever we plead questions as simple as the negative effect of competence-competence, we will honour his memory."
Gaillard rarely opened up about his life outside work but friends say he was passionate about architecture, cinema, literature and music as well as African safaris and diving – and enjoyed a weekly game of squash. He was also a talented caricaturist who could capture moments of drama or comedy in hearings in just a few pen strokes.
He was devoted to his 2 adult sons, one of whom has followed him into law.
A covid-compliant memorial service was held for family, close colleagues and friends of Gaillard on 9 April at the historic of St Etienne du Mont in Paris, chosen in part because of its apt setting close to the Panthéon monument on the "place des grands hommes" (square of great men) and Panthéon University, where he had learnt law.
In addition to tributes by his sons, Banifatemi gave a reading based on L'ordre du discours, a course given by French philosopher Michel Foucault dedicated to his mentor, Jean Hyppolite, a French historian of philosophy. Excerpts of "Aspects philosophiques du droit de l'arbitrage international" were also read.
Gaillard will be buried in a separate service at the famous Père Lachaise Cemetery in Paris. A larger memorial event will be held by his firm in due course. Those wishing to share recollections and tributes are invited to send them to [email protected].
Emmanuel Gaillard 1 January 1952 - 1 April 2021
This article has been updated since first publication