ICC commission appoints new vice-chairs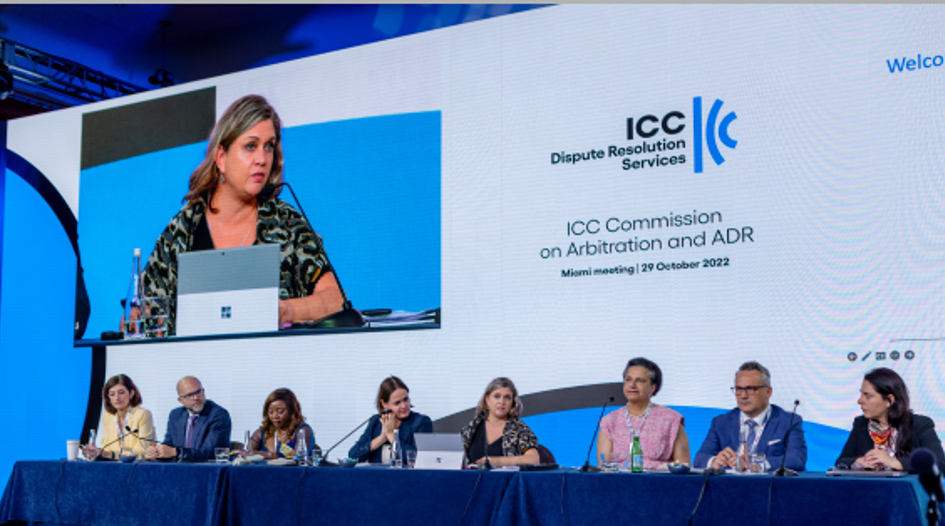 The ICC commission on arbitration and ADR has appointed eight new vice-chairs to its steering committee as its renewed membership met in Miami last week.
The commission – which serves as a think-tank and rule-making body for the ICC's dispute resolution services – announced the appointments at the ICC's 20th annual conference in Miami on 29 October.
The new vice-chairs include Philippe Cavalieros, global co-head of arbitration at Simmons & Simmons in Paris; Payel Chatterjee, head of litigation at India's Adani Enterprises; Sapna Jhangiani KC of the Singapore Attorney-General's Chambers; and Paris-based Cameroonian avocat Evelyne Memphil.
Also joining as vice-chairs are Aisha Nadar, an Egyptian-Swedish-US consultant at Swedish law firm Runeland; Emirati-Lebanese practitioner Karim Nassif of Nassif Arbitration in Dubai; mainland China-based Herbert Smith Freehills partner Helen Tang; and Brazilian Debora Visconte of Visconte Advogados in São Paulo.
The vice-chairs were chosen from 22 arbitration and ADR professionals, many of whom were nominated by ICC national committees. Their first terms will expire on 31 June 2024. The six current vice chairs have agreed to serve a second term that will expire on the same date.
Dutch practitioner Melanie van Leeuwen of Derains & Gharavi in Paris, who took over as chair of the commission last year, welcomes the "incredibly talented" new members of the steering committee and praises the "impressive degree of expertise, inspiring level of energy and a seamless engagement between members across the globe" she saw at the commission's meeting in Miami last week.
The commission says the appointments reflect the ICC's commitments to gender and regional diversity. It explains that it was necessary to add new vice-chairs to ensure the steering committee "strikes the right balance between established and emerging jurisdictions as well as arbitration hubs".
The ICC Court's president Claudia Salomon and secretary general Alexander Fessas also sit on the steering committee as ex officio members, as do Gibson Dunn of counsel Victoria Orlowski, who is president of the standing committee of the ICC International Centre for ADR; Dechert partner Eduardo Silva Romero, who is chair of the ICC Institute of World Business Law; and the Commission secretary Dr. Hélène van Lith.
Last week's meeting in Miami was the first since the commission renewed its membership. Some 70 of the ICC's more than 90 national committees have renewed their delegations. The commission now includes around 400 new member, of which 119 are corporate representatives, which van Leeuwen says will allow it to "better understand the dispute resolution needs of small, medium and large businesses around the globe".
Hélène van Lith, manager of the Commission, adds that the renewed membership reflects a "better geographical representation with the inclusion of delegates from emerging jurisdictions and important progress has been made towards gender diversity, professional diversity and corporate engagement".
The commission's duties include providing thought leadership and input on proposed amendments to ICC rules. It also produces reports and recommendations raising awareness about practical issues in arbitration and ADR. It currently has three active task forces addressing disability inclusion, corruption and ADR.
Cavalieros tells GAR that he is looking forward to contributing to foster the Commission's role as "the premier think-tank for international commercial arbitration". Nadar says she wants to contribute to the commission's "expanding focus" on dispute prevention, while Nassif says steering committee will "engage on the regional level with our members and more widely with end users in order to achieve our goals". 
Tang says it is a "great honour" to be able to "contribute China and Asia perspectives on arbitration and ADR to the work of the commission" and she looks forward to working with the ICC China national committee to develop its practices.
The commission normally holds two in-person meetings per year, with the next scheduled to take place on 28 March in Paris during Paris Arbitration Week.
The ICC Commission on Arbitration and ADR steering committee
Chair
Mélanie van Leeuwen, Derains & Gharavi, Paris
Vice-chairs
Babatunde Ajibade SAN, SPA Ajibade & Co, Lagos
José Ricardo Feris, Squire Patton Boggs, Paris
Susanne Gropp-Stadler, Siemens Mobility, Munich
Vladimir Khvalei, Mansors, Moscow
Caline Mouawad, Chaffetz Lindsey, New York;
Sharif Ali Zu'bi, Ali Sharif Zu'bi Advocates & Legal Consultants, Amman
Philippe Cavalieros, Simmons & Simmons, Paris
Payel Chatterjee, Adani Enterprises Limited
Sapna Jhangiani KC, Attorney-General's Chambers, Singapore
Evelyne Memphil, Cabinet Memphil Avocats, Paris
Aisha Nadar, Advokatfirman Runeland, Stockholm
Karim Nassif, Nassif Arbitration, Dubai
Helen Tang, Herbert Smith Freehills, China
Debora Visconte, Visconte Advogados, São Paulo
Other members
Claudia Salomon, ICC Court president
Alexander Fessas, ICC Court secretary general and director for ICC Dispute Resolution Services
Victoria Orlowski, Gibson Dunn & Crutcher
Eduardo Silva Romero, Dechert
Hélène van Lith, ICC Commission secretary