IBA committee names new officers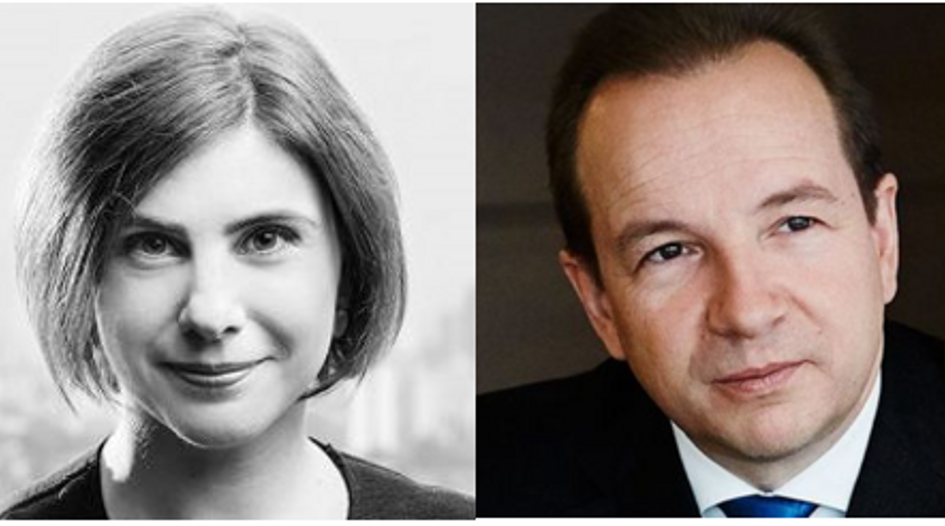 The International Bar Association's arbitration committee has announced its slate of officers for 2023, with Brazil's Valería Galíndez stepping up to senior co-chair and Xavier Favre-Bulle of Lenz & Staehelin in Geneva becoming junior co-chair.
The new slate of officers was announced yesterday during the IBA's annual conference in Miami.
Galíndez, who has her own practice Galíndez Arb in São Paulo, will take over from King & Spalding partner Samaa Haridi in New York as senior co-chair.
Chiann Bao of Arbitration Chambers becomes the new senior vice chair.
The other vice chairs are Angeline Welsh of Essex Court Chambers in London, Kate Brown de Vejar of DLA Piper in Mexico City, Nayla Comair-Obeid of Obeid & Partners in Beirut, Rahim Moloo of Gibson Dunn & Crutcher in New York, Colin Ong KC of Eldan Law in Singapore, Dietmar Prager of Debevoise & Plimpton in New York, Utku Coşar of Coşar Avukatlık in Istanbul and Ana Vermal of Proskauer Rose in Paris.
Cosmin Vasile of Zamfirescu Racoți Vasile & Partners in Bucharest remains as secretary while Michelangelo Cicogna of De Berti Jacchia Franchini Forlani in Milan takes on the role of treasurer.
The committee has also launched three new working groups: a sports arbitration group chaired by Favre-Bulle; an Eastern Europe group co-chaired by Vasile and Dalibor Valinčić of Wolf Theiss in Zagreb; and a Latin America arbitration group co-chaired by Jose Daniel Amado of Miranda & Amado in Lima and Brown de Vejar.
Among the other working groups and subcommittees, Alexandra do Nascimento Gonçalves of MG Advogados in Luanda teams up with existing co-chair Nania Owusu-Ankomah of Bentsi-Enchill Letsa & Ankomah in Ghana to head the Africa arbitration group. Sun Huawei of Zhong Lun in Beijing remains co-chair of the Asia Pacific group, alongside new arrival Hogan Lovells partner Kent Phillips in Singapore.
White & Case partner Zelda Hunter remains in charge of the recognition and enforcement of arbitral awards subcommittee along with Thomas Stouten of Houthoff in Rotterdam, while Chaffetz Lindsey's Caline Mouawad and WilmerHale's Maxi Scherer continue to lead the investment arbitration subcommittee.
Erica Stein, who recently left Dechert to launch a solo practice in Brussels, and Emmanuel Jacomy of Shearman & Sterling in Paris and Singapore remain co-chairs of the IBA arbitration guidelines and rules subcommittee.
A full list of the appointments can be found below.
Haridi tells GAR that the 2023 arbitration committee officers reflect "a diverse pool of international arbitration specialists who represent many countries and legal cultures around the world". She says "some of them are continuing on the committee and taking on new roles, and others are joining and bringing new energy and a diverse perspective to the activities of the committee. We have a number of ongoing projects with our subcommittees, and we look forward to bringing those to fruition under the excellent leadership of Valeria Galindez and Xavier Favre-Bulle in 2023."
In 2022, the IBA arbitration committee launched a global survey of the global arbitration community on the 2014 IBA guidelines on conflicts of interest and published a report on arbitrating small-value claims in investment arbitration.

Meanwhile the international commercial case law subcommittee is producing a report on force majeure and other changed circumstance. It expects to make this available by early next year.
 
IBA arbitration committee for 2023
 
Valería Galíndez (Galíndez Arb, São Paulo) (senior co-chair)
Xavier Favre-Bulle (Lenz & Staehelin, Geneva) (junior co-chair)
Chiann Bao (Arbitration Chambers, Singapore)  (senior vice chair)
Angeline Welsh (Essex Court Chambers, London) (vice chair)
Kate Brown de Vejar (DLA Piper, Mexico City) (vice chair)
Nayla Comair-Obeid (Obeid & Partners, Beirut) (vice chair)
Rahim Moloo (Gibson Dunn & Crutcher, New York) (vice chair)
Colin Ong KC (Eldan Law, Singapore) (vice chair)
Dietmar Prager (Debevoise & Plimpton, New York) (vice chair)
Utku Coşar (Coşar Avukatlık Bürosu, Istanbul) (vice chair)
Ana Vermal (Proskauer Rose, Paris) (vice chair)
Cosmin Vasile (Zamfirescu Racoți Vasile & Partners, Bucharest) (secretary)
Michelangelo Cicogna (De Berti Jacchia Franchini Forlani, Milan) (treasurer)
Patricia Saiz (ESADE Law School, Barcelona) (diversity and inclusion officer)
Sylvia Tonova (Jones Day, London) (conference quality officer)
Amr Omran (Freshfields Bruckhaus Deringer, Dubai) (publication and newsletter editor)
Andre Abbud (BMA Advogados, Sao Paolo) (newsletter editor)
Pallavi Shroff (Shardul Amarchand Mangaldas, Delhi) (Asia Pacific Regional Forum Liaison Officer)
Rafał Morek (DWF, Warsaw) (membership officer)
Jennifer Permesly (Skadden Arps Slate Meagher & Flom, New York) (website officer)
Recognition and Enforcement of Arbitral Awards Subcommittee
Thomas Stouten (Houthoff, Rotterdam) (co-chair)
Zelda Hunter (White & Case, Geneva) (co-chair)
Investment Arbitration Subcommittee
Caline Mouawad (Chaffetz Lindsey, New York) (co-chair)
Maxi Scherer (WilmerHale, London) (co-chair)
IBA Arbitration Guidelines and Rules Subcommittee
Erica Stein (Dechert, Brussels and Paris) (co-chair)
Emmanuel Jacomy (Shearman & Sterling, Paris and Singapore) (co-chair)
IBA Arb40 Subcommittee
Agnes Bizard (King & Spalding, Paris) (co-chair)
Juan Felipe Merizalde (Adell & Merizalde, Bogotá) (co-chair)
International Commercial Arbitration Case Law Subcommittee
Felipe Ossa (Claro y Cia, Santiago) (co-chair)
Thomas Voisin (Quinn Emanuel Urquhart & Sullivan, Par (co-chair)
ESG Arbitration Subcommittee
Anna-Maria Tamminen (Hannes Snellman, Helsinki) (co-chair)
Patrick Pearsall (Allen & Overy, Washington, DC) (co-chair)
In-House Counsel Group
Sara Koleilat-Aranjo (Al Tamimi & Company, Dubai) (co-chair)
Mimi Lee (Chevron, San Francisco) (co-chair)
Arbitration News Working Group
Andre Abbud (co-chair)
Amr Omran (co-chair)
Africa Arbitration Group
Alexandra do Nascimento Gonçalves (MG Advogados, Luanda) (co-chair)
Nania Owusu-Ankomah (Bentsi-Enchill Letsa & Ankomah, Accra) (co-chair)
Insolvency and International Arbitration Working Group
Hamid Abdulkareem (Three Crowns, London) (co-chair)
Simon Batifort (Curtis Mallet-Prevost Colt & Mosle, Brussels) (co-chair)
Eastern Europe Group
Cosmin Vasile (co-chair)
Dalibor Valinčić (Wolf Theiss, Zagreb) (co-chair)
Latin America Arbitration Group
Jose Daniel Amado (Miranda & Amado, Lima) (co-chair)
Kate Brown de Vejar (co-chair)
Asia Pacific Arbitration Group
Sun Huawei (Zhong Lun, Beijing) (co-chair)
Kent Phillips (Hogan Lovells, Singapore) (co-chair)
Sports Arbitration Group
Xavier-Favre Bulle (chair)