Gibson Dunn promotes three to partner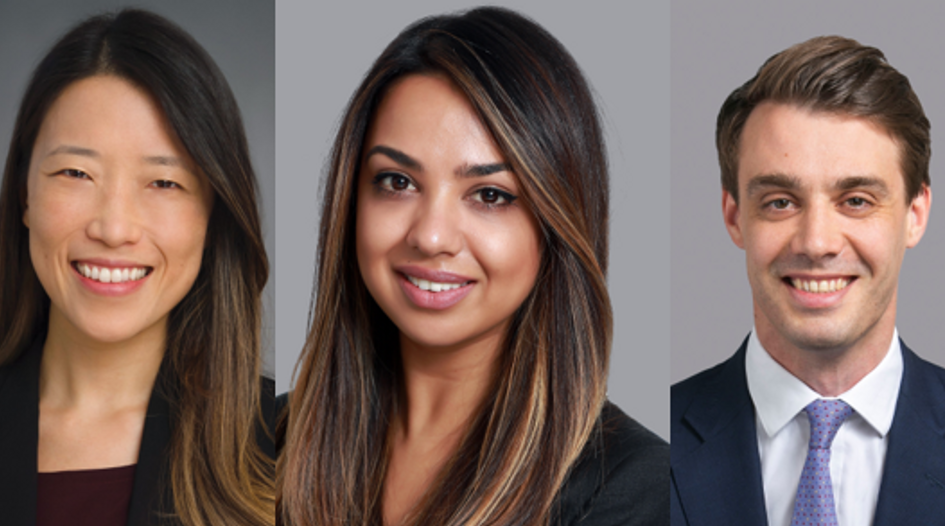 Gibson Dunn & Crutcher has promoted Charline Yim in New York, Nooree Moola in Dubai and Piers Plumptre in London to the partnership.
The promotions, announced this week, take effect from the start of next year.
Yim recently acted for a Russian-owned telecoms company in a US$1.8 billion claim against Canada – the first case the state has faced under a bilateral investment treaty. She acts for US sanitary products group Kimberly-Clark in a treaty claim against Venezuela.
She also advised a US nuclear utility in an ICC arbitration with EDF over the purchase of an interest in three US nuclear power plants, which settled last year.
Yim also has a pro bono practice advising on public international law and human rights law.
She says she looks forward to "continuing to advocate for our clients in this new capacity", alongside her "fantastic colleagues".
Yim was an associate at Freshfields Bruckhaus Deringer for nearly four years before joining Gibson Dunn in 2016. She was promoted to of counsel in 2020.
She has also been a legal associate at the Documentation Centre of Cambodia, a research centre documenting the genocide committed by the Khmer Rouge; and a fellow  for two judges at the International Criminal Tribunal for the former Yugoslavia.
Moola, an English and Australian-qualified of counsel in Dubai, represented Emirati companies Dana Gas and Crescent Petroleum in LCIA claims against their consortium partners regarding deferred payments for a gas project in Kurdistan.
She is also a member of the DIFC Courts' rules drafting committee and has recently been appointed as an arbitrator in proceedings under DIFC-LCIA rules.
She studied law at the University of Queensland and trained at DLA Piper in Brisbane and then Melbourne, before joining Gibson Dunn in 2013. She was promoted to of counsel last year.
She is a non-executive director of US non-profit Pack for a Purpose, which encourages travellers to use space in their luggage to carry supplies to community projects around the world.
Moola tells GAR that, after nine years in the region, she is joining the partnership at an important time in Gibson Dunn's growth in the Middle East. She says the region is a "key arbitration hub" and looks forward to working with her colleagues in London and New York to further build the firm's Middle Eastern arbitration practice.
Plumptre was part of the team that helped Yukos Capital win a multibillion-dollar award against Russia in one of the second wave of Energy Charter Treaty cases relating to the collapse of Yukos Oil Company. Last month, a Swiss court upheld the award.
He also acted for Tethyan Copper Company in its efforts to enforce a US$6 billion ICSID award against Pakistan, briefly succeeding in freezing assets held by the operator of Pakistan's national airline in the British Virgin Islands. Pakistan agreed this year to settle the ICSID dispute, though the deal is yet to close.
He studied history at Oxford before converting to law and taking a pupillage at 4 Stone Buildings in London. He joined Gibson Dunn in 2012 and says this is an "exciting time to be joining the partnership".
Penny Madden, co-chair of international arbitration at Gibson Dunn, tells GAR the promotions are "well deserved" as the new partners have the "highest standards in their work". She says "the promotions of these three exceptionally high quality lawyers across London, Dubai and New York reflect the strength of our growing arbitration practice internationally."
This month, Gibson Dunn announced the hire of Paul Tan in Singapore to lead its international arbitration practice in Asia, with Robert Spano, former president of the European Court of Human Rights, also joining the firm in London as of counsel.
In July, the firm promoted Ceyda Knoebel and Jonathan Griffin to of counsel in London, and Ankita Ritwik to the same position in Washington, DC.