GAR Live returns to Mumbai with lifetime award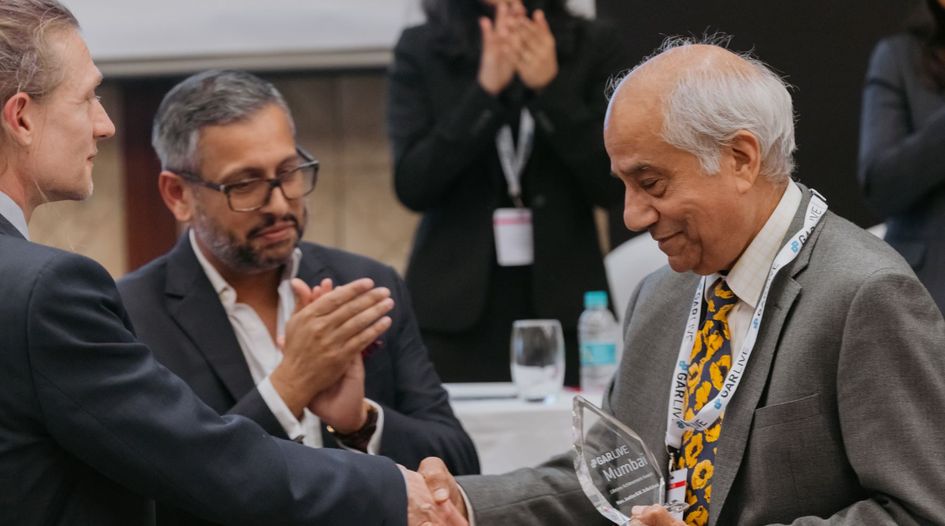 GAR Live returned to India last month for the first time since the pandemic, drawing a standing-room-only crowd and closing with a surprise lifetime achievement award for Justice B N Srikrishna.
GAR Live was last in India in February 2020. That event, in Delhi, had an eerie tone, owing to the approaching pandemic.
GAR Live Mumbai, on 18 February 2023, was the first in-person event since.
It took place at the Four Seasons in downtown Mumbai, a high-rise building in part of town starting to resemble Dubai, such is the level of construction around.
Despite Delhi arbitration weekend's taking place at the same time, it was a sell-out. Several attendees travelled across from Delhi. More than 220 registered; the vast majority showed. At several points the organisers put out additional chairs.
One attendee said you only had to look at all the construction – of roads, apartments, and other infrastructure – in Mumbai to understand the appeal.
The programme offered sessions on India's recent arbitration reforms; summary dismissal and other early dispositive motions; disclosure and Halliburton; an arbitrators' question-time; and a debate on whether it's time to publish more commercial awards.
A recurring thread was whether arbitration in India has emerged from its dark days, when progressing cases was nigh impossible owing to the extreme delays in local courts, the many opportunities for those courts to hook on to an arbitration, and the high probability that, if you were lucky enough to reach a final award, a judge would overturn it, citing "patent illegality" or public policy.
In 2015, a bold set of reforms endeavoured to help arbitration escape.
Sharan Jagtiani, senior advocate, who moderated a session on those reforms, said they "to all intents represented new legislation without actually changing" the country's Arbitration and Conciliation Act.
Had they worked? Did the reforms go far enough?
Pooja Chakrabarti, partner at the law firm Argus Partners, and a number of other speakers during the morning said, yes, they had.
In important ways "the needle has really moved," Chakrabarti said, and "the faith of the parties has been restored".
"They now feel confident that after all this toil the arbitration award will not be reopened on frivolous grounds."
Neeti Sachdeva, secretary general of the Mumbai Centre for International Arbitration, agreed and said Indian arbitration specialists "need to stop deprecating ourselves."
She cited statistics to demonstrate that "if you look at the reality on the ground," overall the courts are taking a pro-arbitration stance and "parties are happy with it."
Sachdeva would prefer no further reform for a while: "I wouldn't want to tinker with the law any more for now. It's taken us a long time to get our house in order."
She and others agreed, during panel discussion, that stringent costs orders would probably fix the remaining bad habits of Indian parties – "as the English courts do," said Rishab Gupta of Twenty Essex, also a speaker.
But Justice Gautam Patel of the Bombay High Court in the keynote said more was required.
In a fiery speech that ended in intense back and forth with the audience, he said India's reform efforts to date were not enough: "My perception is, we're all squashed up too close to the existing arbitration architecture and we've lost perspective. We've lost imagination. […] When it comes to arbitration law we have ceased to be architects and become masons. All we do is tinker – change one corner here or there."
"We delude ourselves this is progress. It hasn't worked as it should. The entire edifice is flawed. Let's burn down the house and start over," he said.
He focused most of his ire on the mindset of Indian judges and the structure of the overall system. But he had some stern words for arbitrators – saying they were stuffing far too much work into their interim awards.
For a full report of his speech see here.
Some international visitors were more upbeat.
Constantine Partasides KC and Lord Goldsmith KC had both been at arbitration events in Delhi over the previous few days. They addressed GAR Live Mumbai in the afternoon.
Partasides, visiting in part to promote a new edition of Redfern & Hunter, said after a week in India he had been "absolutely blown away at the energy and dynamism of the legal community here."
"There is great hope and great optimism and I congratulate you all on that."
Goldsmith said his visit had provoked a possible change of heart on India as a seat.
"A few years ago I said I didn't want to sit in India … but after being at Delhi Arbitration Weekend, and now here, genuinely I think that Indian arbitration has moved a great deal." He said was partly thanks to Justice Srikrishna.
"The chief justice of India, too, plainly has got the bit between his teeth. Whether he can accomplish everything remains to be seen but for me, having seen India as a terrible venue to be avoided and shunned, I now think the possibility is that this ambition India has to be an international arbitration hub is perhaps achievable."
"It's certainly a lot closer than it was."
Lifetime award for Justice B N Srikrishna
The day was due to close after the – all-female – GAR Live debate on whether to publish more arbitral awards.
In reality, the organisers had other plans.
As the debaters delivered their closings, the room began perceptibly to fill. A number of senior local figures were stealthily taking seats.
As the applause waned, Gautam Bhattacharyya, co-chair of the programme, and partner at Reed Smith and turned to Justice Srikrishna, the other chair, and said "but it's not quite the end – yet."
David Samuels, GAR's publisher, explained GAR would now present Justice Srikrishna with a GAR lifetime achievement award.
He said the award had only been presented 14 times – to Pierre Lalive, Stephen Schwebel, Charles Brower, Ahmed El Kosheri, Arthur Marriott, Tang Houzhi, Laurie Craig, David Caron, Eric Bergsten, Karl-Heinz Böckstiegel, Fali Nariman, Johnny Veeder, Alan Redfern and Emmanuel Gaillard.
"It is an incredibly illustrious club," he said.
In the front row, Justice Srikrishna looked by turns startled, overwhelmed and then, abruptly, content.
Cyril Shroff, managing partner of Cyril Amarchand Mangaldas and doyen of India's commercial bar, provided a eulogy.
"Justice Srikrishna looked at me askance when I walked in and said 'why are you here'? So: now you know!"
He told the room how Srikrishna had begun his career as an eminent labour lawyer before becoming a senior judge. He chaired the inquiry that followed the Bombay riots of December 1992 and January 1993 in which 900 people died – referred to as the "Srikrishna Commission". He retired from the Supreme Court in 2006 since when he'd been, Shroff said, if anything more active in public life.
As well as turning into one of the most in-demand arbitrators in India, Srikrishna chaired a series of significant commissions and committees, including one on kickstarting institutional arbitration in India. That high-level committee ("the high-level committee to review the institutionalisation of the arbitration mechanism in India") reported in 2017 and its report appears to have accurately foretold much of the development in Indian arbitration law since.
Shroff described Srikrishna as a "legend of our times". And he revealed Srikrishna hadn't intended to become a lawyer at all.
"He was a scientist and was about to enrol in a graduate degree when his father said, 'of course that a legal brain requires a really special IQ ….'  That ticked him off – and he enrolled in law school the next day."
"The only concern I have is – he's still at it! 'Lifetime' is for when you're done, but he has quite a few commissions and arbitrations and other jobs in him."
"So let's call it an interim lifetime achievement award," he said, drawing laughter.
Bhattacharyya paid tribute to a person he said was "the dictionary definition of a legend"
"I have looked up to him for over 30 years. For those familiar with Indian scriptures he is Drona and Parashuram rolled into one."
He praised his "intellect, humility, sense of fun and energy."
It was just a pity that Mrs Srikrishna wasn't present to witness. "But she called it right when she said, he might be a judge but she was chief justice of their domestic supreme court."
Justice Srikrishna accepted the award, looking visibly moved.
He said: "Thank you my dear friends. One can have no better joy in life than to be recognised by one's peers."
He said he'd checked his horoscope for the year in January and "it said it's going to be very good for you. I didn't know what it means – but this is the second award I've now received!"
GAR Live will return to India soon.
This year's event was sponsored by Reed Smith, Cyril Amarchand Mangaldas, Khaitan & Co, Trilegal, Dentons, Shardul Amarchand Mangaldas & Co, and Masin, and chaired by Gautam Bhattacharyya, partner at Reed Smith, and Justice B N Srikrishna.