Canadian bank brings ICSID claim against Peru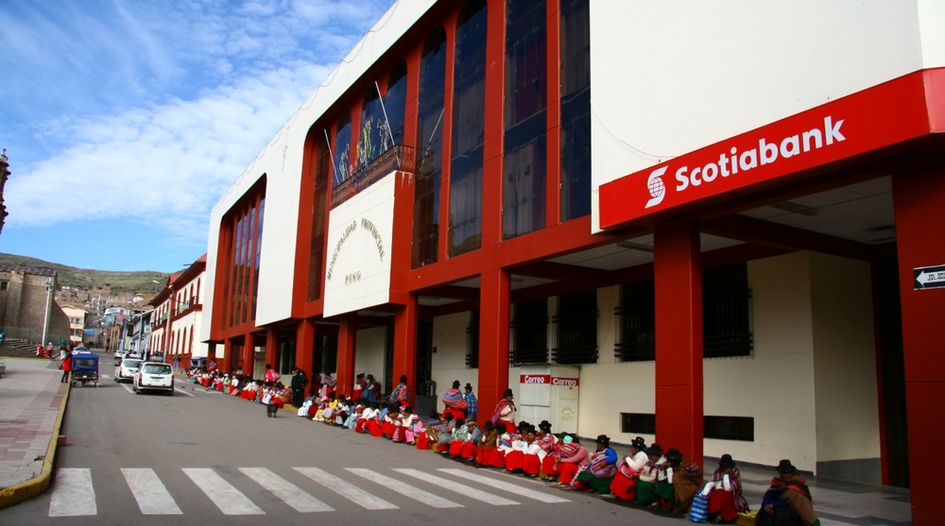 A Canadian bank has brought an ICSID claim against Peru over a nearly 15-year long tax dispute, as a contractor turns to new counsel to challenge an award in a separate dispute with the Andean state. 
The Bank of Nova Scotia is bringing its claim under the 2009 Canada-Peru free trade agreement. ICSID registered the claim on 15 November.
The bank is using Torys in Toronto and Peruvian firm Payet Rey Cauvi Pérez, while Peru is yet to instruct external counsel.
The dispute has its origins in a 1999 claim by Peru's tax authority Sunat against Banco Wiese, which the Canadian bank's subsidiary Scotiabank Peru acquired in 2005. Sunat claimed that through fictitious gold transactions, Banco Wiese had been wrongfully increasing its tax credit to pay less IGV (a general sales tax similar to VAT).
The gold transactions had been recorded between 1997 and 1998. Scotiabank Peru appealed Sunat's decision but the Peruvian tax court eventually resolved the claim in Sunat's favour in 2013. By this time, Scotiabank said the default interest accumulating on the tax liability meant that the amount it owed to Sunat rose by 890%, to roughly US$126 million. Scotiabank Peru paid this sum under protest.
Scotiabank Peru made a claim to Peru's constitutional court for the damage incurred by the delay. After several years, the court eventually dismissed Scotiabank Peru's claim as inadmissible last year.
Scotiabank announced the ICSID claim in a regulatory disclosure on 17 November.
Highway contractor applies to annul award
Separately, a construction contractor developing a stretch of the Pan-American Highway has applied to ICSID to partially annul an award issued in a dispute with Peru over cost overruns.
ICSID registered the request by Autopista del Norte (Aunor) for annulment of the award on 4 November.
A tribunal chaired by Gabrielle Kaufmann-Kohler and including Antonio Crivellaro and Raúl Vinuesa issued the award in June, reportedly granting Aunor significantly less than the more than US$150 million it had claimed .
Aunor is represented by Cuatrecasas in Madrid for the annulment request. In the arbitration, it used Dechert in Paris and Mirando & Amado in Lima.
Peru used Sidley Austin in Washington, DC and Estudio Navarro & Pazos in Lima for the arbitration but the state is yet to appoint external counsel for the annulment proceeding.
Aunor is a subsidiary of Aleatica, a transport infrastructure operator owned by Australian investors. It won a concession to upgrade the stretch of highway in 2008, running until 2034.
The dispute arose out of delays to the project, which Aunor claimed had resulted in over US$150 million in cost overruns for it and its subcontractor OHL. It filed an ICSID claim against Peru in 2018, also claiming around US$27 million in lost profits for lost tolling due to the delays.
According to a June statement by the Peruvian ministry of finance, the tribunal reduced the damages claimed by 86%, ordering Peru to pay only US$8.6 million. The tribunal awarded around US$12 million for cost overruns, and US$20 million for the lost tolling profits, which it then set off against US$23 million that it found Aunor had saved in project costs due to the delays.
In August, an ICC tribunal ordered a Peruvian government agency to pay US$177 million to a subsidiary of US infrastructure group Quanta Services. The tribunal reportedly affirmed that ruling this month following further pleadings from the parties.
Counsel for the Bank of Nova Scotia
Partner John Terry and senior associates Christopher Kinnear Hunter, Ryan Lax and Emily Sherkey in Toronto
Payet Rey Cauvi Pérez Abogados
Partners José Antonio Payet and Julio César Pérez, principal associate Mayra Bryce, associate Alvaro Cuba and legal assistant Augusto Dannon in San Isidro, Peru
Counsel for Peru
The Special Commission representing the Republic of Peru in International Investment Disputes in Lima
Autopista del Norte S.A.C. v. Republic of Peru (ICSID Case No. ARB/18/17)
In the annulment proceeding
Counsel to Autopista del Norte
Counsel to Peru
The Special Commission representing the Republic of Peru in International Investment Disputes in Lima
In the arbitration
Tribunal
Gabrielle Kaufmann-Kohler (Switzerland) (president)
Antonio Crivellaro (Italy)
Raúl Vinuesa (Argentina/Spain)
Counsel to Autopista del Norte
Partners Eduardo Silva Romero and José Manuel García Represa in Paris
Partners Mauricio Raffo and Cristina Ferraro in Lima
Counsel to Peru
Partners Marinn Carlson and Jennifer Haworth McCandless in Washington, DC
Estudio Navarro & Pazos Abogados
Ministry of Economy and Finance