ArbLit doubles partner count ahead of 10th birthday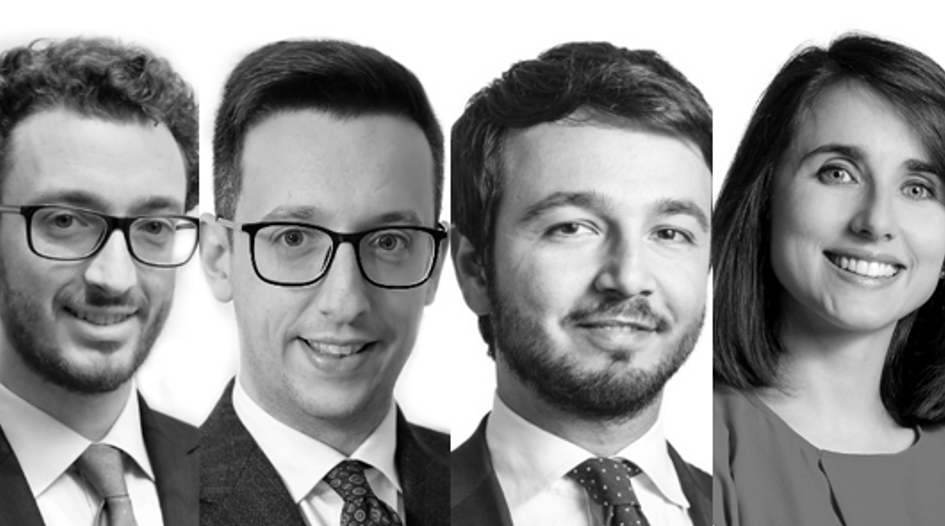 Milan disputes boutique ArbLit has announced plans to promote four new partners as it marks its 10th anniversary next year.
Senior associates Flavio Ponzano, Emilio Bettoni, Fabio Santacroce and Federica Serrantoni will all become partners from the start of next year, doubling the firm's partner count from four to eight.
The promotions come as ArbLit prepares to celebrate its 10th anniversary next year. The firm was founded in 2013 by partners Luca Radicati di Brozolo and Michele Sabatini when they broke away from BonelliErede. 
They were joined the following year by Massimo Benedettelli from Freshfields Bruckhaus Deringer in Milan. A fourth name partner, Marco Torsello, joined in 2017 to head the litigation practice.
Radicati di Brozolo tells GAR that the promotions are a testament to the firm's belief in internal growth. He says, "Federica, Emilio, Flavio and Fabio are exceptional lawyers who have greatly contributed to ArbLit's success. My partners and I are delighted to welcome them to the partnership and count on them to help us consolidate ArbLit's reputation and expand its footprint as it is about to enter its second decade".
Benedettelli adds: "Luca and I had discussed the setting-up of a dispute resolution boutique many years ago, both believing that it could bring added value to clients, while relieving us from the constraints of large structured firms. I am happy to see that we were right and that our idea has proved to be successful, attracting young talents that have quickly made their way to partnership".
Of the new promotions, Ponzano has been with ArbLit since the beginning. As counsel, he was part of the team that advised solar power investors in six treaty claims against the Czech Republic, including one in which a damages award is still awaited. He also advised a Maltese company in an ICC arbitration relating to the use of Argentine footballer Paulo Dybala's image rights.
He has acted as secretary for tribunals chaired by Radicati di Brozolo, including ICC cases relating to an energy-from-waste plant in the Middle East, an oil refinery venture in Costa Rica and a West African national electricity company. He has sat on the executive committee of Italian under-40 group AIA-Arbit-40 since its inception in 2019.
Ponzano gained his PhD in international law at Cattolica in Milan and trained at BonelliErede, also working as a teaching and research assistant for Radicati di Brozolo.
Bettoni, who also joined ArbLit in 2013, has a focus on Latin America. Dual-qualified in Italy and New York, Bettoni also advised on the Czech solar cases and represented two Italian construction companies in an ICC arbitration in Panama.
He has assisted tribunals chaired by Radicati di Brozolo hearing claims against Peru and Colombia, and an ICSID annulment claim involving Venezuela; and is a coordinator for the CEA-40 and a member of the steering committee of the IBA Arb40 subcommittee.
He holds an LLM from New York University and a PhD from the University of Milan.
Santacroce joined ArbLit in 2014 with Benedettelli from Freshfields' international arbitration group. He is advising ThyssenKrupp against Greece in an €8 billion ICC case; and helped a Mexican subsidiary of Tenova Group win awards worth US$14 million against Tecnimont and defend them in the Italian courts.
He has also participated as a tribunal secretary or assistant in disputes across sectors including telecoms and energy. He is a regional representative for the ICC's under-40 organisation ICC YAAF.
He graduated from Bocconi University and holds an LLM from Cambridge.
Ponzano, Bettoni and Santacroce all started sitting as arbitrators in 2022.
Serrantoni joined the litigation department with Torsello in 2017. She has acted in court proceedings relating to the setting aside of arbitral awards and challenges to arbitrators, and also worked on the Tecnimont dispute. She and Santacroce helped a US client to disqualify the presiding arbitrator in a pair of arbitrations worth US$3 billion.
Over the last decade, ArbLit has grown from four to around 20 lawyers. In 2020, it set up a Spanish and Latin American desk.
The firm has also promoted Gregorio Baldoli, Ieva Baumane and Lucia Pontremoli to senior associate with effect from the beginning of next year.