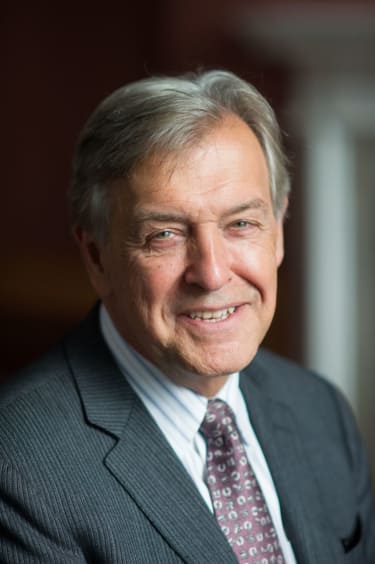 David Caron 1952-2018
The late David Caron, leading US arbitrator, academic and judge at the Iran-United States Claims Tribunal, has been given a posthumous GAR lifetime achievement award months after his unexpected death at age 65, with a moving speech from his friend and mentor Charles Brower and video tribute prepared by GAR.
Brower and video commentators including Donald Donovan, Jacomijn van Haersolte-van Hof, Guglielmo Verdirame, Cian Murphy and Philippa Webb painted a picture of a man who rose from a modest background and an early career in the US Coast Guard to the heights of the legal profession and who was (in Brower's words) "humble but quietly, and justifiably, proud."
They also highlighted his role as "an arbitrator scholar", of whom not many now remain, combining academic research in the field with an aptitude for practice and bringing to each role the benefits of the other.
"David Caron was my first law clerk" said Brower, telling how he considered him for the role when he was on the verge of taking over from Richard Mosk as a US-appointed judge at the Iran-US Claims Tribunal. Brower was impressed that as a former commander of the corps of cadets at the Coast Guard Academy, Caron was "a certified leader" and took the view that, were he his platoon head, he would willingly follow him into combat.
Caron accepted the job and went on to clerk for Brower from 1984 to 1985, the start of "a lifelong relationship".
Brower described Caron's childhood and how his father suffered a crippling stroke when he was young and died three years later, leaving little money for Caron's education. The US Coast Guard offered an affordable education for young cadets but Caron was initially not accepted because of a severe underbite and endured having his jaw broken and reset before he could gain admission.
At the Coast Guard Academy, he excelled, graduating with honours and many years later, on the occasion of the 40th reunion of his class, receiving the academy's distinguished graduate award. The first of his mandatory five years' service as a Coast Guard officer was served in the Artcic on the "Polar Star" as navigating and diving officer.
"I would ask him whether he actually dived in the Arctic and his answer was 'I certainly did'," recalled Brower. Indeed, he came close to losing his life trying to repair a propellor failure, but was not deterred from taking his family on diving vacations in later life.
On completing his Coast Guard service, he studied maritime law and won a Fulbright scholarship to Cardiff in Wales, where he was told that in order to fit in there he must play rugby or sing and duly joined a choir.
Brower believed Caron's experience of being posted to San Francisco, following his Arctic service, influenced his choice of where to go next, the law school of the University of California, Berkeley. There, he was described by the renowned professor of international law Stefan Reisenfeld as "the best student I've ever had."
Caron achieved a diploma in international law at The Hague Academy of International Law and completed a PhD at Leiden University and went on to become a professor and distinguished chair of law at Berkeley for 26 years, following his time as clerk at the Iran-US Claims Tribunal and stints at the Max Planck Institute and Leiden University.
Much later, he moved to London as dean of the Dickson Poon School of Law at King's College London and was admitted to the Bar of England and Wales, displaying his wig proudly and prominently in his office.
He joined Brower's chambers, 20 Essex Street, and also followed his old friend in serving as chair of the Institute for Transnational Arbitration and president of the American Society for International Law. He also helped found Delos, an institution to administer lesser value arbitration disputes that received this year's GAR Award for innovation, with fellow arbitrator Pierre Mayer.
Alongside all these roles, Caron was a "highly regarded" international arbitrator. Brower recalled serving with him on a tribunal, to which he was appointed by an investor and Caron by an underdeveloped state, and joining with him to form a majority award in favour of the claimant, from which the chair dissented.
Later, he said the two "conspired" to get Caron the international judicial position that was the pinnacle of his ambitions. He eventually got it, fittingly succeeding Brower as a judge of the Iran-United States Claims Tribunal. During his time there, he also served as an ad hoc judge at the International Court of Justice and deliberated on jurisdiction alongside Brower, who was hearing a parallel case with a common jurisdictional issue. Again, they came to the same conclusion.
"I will always treasure that moment of deliberating together," said Brower, recalling how Caron was "so happy" at having achieved his life's ambition.
Brower also recalled Caron's "wonderful bass singing voice" - he sang in church for a fellow law clerk at the Iran-US Claims Tribunal, in a choir in Westminster in London largely made up of members of parliament and was known by his friends and students for his impromptu renditions of Elvis Presley songs.
Another reflection of his "fun and quirky" personality was his famously "improbable choice of vehicle" in The Hague, which did not seem to fit "an elegant professor, dean and judge," Brower said.
In the video, which is posted below, the commentators echoed some of these memories. LCIA director general van Haersolte van-Hof spoke about he and his wife Susan's easy integration into life in The Hague and big, green "cool" American car; and Verdirame recalled how he finished one lecture session for students about to embark on exams with a confidence-building rendition of "Love Me Tender", with the words adapted to the subject they had been studying.
Donovan, a Debevoise & Plimpton partner who was an assistant with Caron at the Iran-US Claims Tribunal, recalled Caron's "intense" interest in the work of that tribunal, which served as "a precusor of bilateral investment treaty arbitration".
Murphy, a senior lecturer at Bristol University who met him as a colleague at King's College and is editing a book with him, described Caron's belief in "sitting with complexity," giving careful thought to decisions without rushing them, as well as his "fun" side.
And Webb, another colleague at King's College who was encouraged by Caron to join 20 Essex Street spoke of his warmth, kindness and listening skills and how he taught her "you can succeed and reach the top of your profession without losing that sense of self."
All testified as to his happiness at how his career had turned out, before it was abruptly cut short.
Brower finished his tribute with a quote from US president Abraham Lincoln: "Every man is said to have his peculiar ambition. Whether it be true or not, I can say, for one, that I have no other so great as that of being truly esteemed of my fellow men, by rendering myself worthy of their esteem."
He said he believed Caron shared this philosophy, and added "Rest in peace, David, you have done that."
Brower's speech was greeted with a standing ovation, before the video, which can be seen below.